Damiano Cunego Interview: Inside Casa Cunego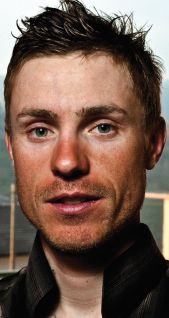 "I am just Damiano Cunego, but if you had to compare me, I would say I'm a mix of these three riders: Marco Pantani, Paolo Bettini & Giuseppe Saronni."
His house is surrounded by a high fence so the paparazzi can't take photographs of him, but is the 2004 Giro d'Italia winner hiding from the reality of a potential that remains unfulfilled? Cycle Sport went behind the fence to find out.
Words Gregor Brown
Photos Richard Baybutt and Graham Watson
Damiano Cunego lives on a hillside, overlooking Valpantena and the cherry trees that blossom every April on the valley slopes. From his home in Cerro Veronese it is a twisting drive downhill and through the valley to Verona, the nearest big city.
Cunego is a homebody. He grew up in Cerro Veronese and learned to climb on long rides in the surrounding hills. He lives with his wife Margarita, daughter Ludovica and dog Minu only two kilometres away from his parents. Cunego's multi-level 'casa' is simple, with a basement stocked full of wine, trophies and bike gear, surrounded outside by plenty of grass for his dog and Ludovica to play on.
So far, so normal. But in front of Cunego's house, there is a barrier, a two-metre high metal fence that blocks outsiders from looking in but allows Cunego to safely peek out via a closed-circuit camera. For a man who lives his life with the pressure of the Italian cycling tifosi on his shoulders, whose every public act is scrutinised, this is a small but significant reversal of roles. At home, at least, Cunego can exercise some control.
Incredibly, Cunego is still only 28 years old. The perception of him is of a wasted talent. But he's won a Giro d'Italia, three Tours of Lombardy, an Amstel Gold, and two Vuelta stages.
He won the white jersey in the 2006 Tour de France, was in the top seven of Amstel Gold, Flèche Wallonne and Liège-Bastogne-Liège in 2009, and took a silver medal in the 2008 World Championships, won by team-mate Alessandro Ballan. Some waste.
Cunego still looks a lot younger than his years. He emerges from his house and greets Cycle Sport at the gate, smiling and waving us in, anxious to talk after a six-hour training ride and recently returning from Paris-Nice.
"I was always a little bit timid, it is not like I'm a big chatter," he says of himself. "But I am becoming better at communicating and being available. I am already strong on the bike, but one also has to better oneself as a whole person and be well rounded.
New opening
"In these areas, up in the mountains, people tend to keep to themselves. Instead, you have to open up. It is something that I am working on a lot and it is not only for cycling, but for the future, when I stop racing."
With the afternoon sun cutting through the cool air and beaming through the window, Cunego explains how his inability to express himself and to be open caused problems last year. Things came to a head at the Giro d'Italia and carried on through the autumn, when he won his two Vuelta stages and then led the Italian team at the World Championships.
Cunego was a different man, and it showed. Alessandro Ballan, who won the 2008 Worlds with Cunego's help and left to join BMC Racing at the end of last year, lashed out in a recent interview.
"Damiano's problem? His relationship with his team-mates," Ballan said. "He doesn't work for others. There are times when you have to help out, not only on the road."
"It is not that way, it is just the opposite," says Cunego when he hears Ballan's words.
"Maybe he noted this in 2009, but it's not like I was a bad person. I had my problems, I did not express myself well,
I did not have great condition in the spring and at the Giro. I was not myself and he saw these things. The true Damiano is not like that, he makes himself available for others."
It's difficult to convey just how huge the Giro d'Italia is in Italy. It is the topic of conversation for every Italian who walks into a cafe for a coffee and picks up La Gazzetta dello Sport. And Cunego's own history as a cyclist is inextricably linked to the race. In 2004, his third year as a professional, Cunego started the race supporting Saeco team-mate Gilberto Simoni, but became the leader himself after the stage to Montevergine di Mercogliano.
The overall win two weeks later rocketed him to fame and every year since, though less and less these days, he is touted as a Giro favourite. Old men discuss his form over coffees, wondering if he'll ever repeat 2004.
Even last year, his sixth Giro, he considered himself as a favourite for the overall classification when the race started in Venice. However, three weeks later in Rome, he was a beaten man with only a fifth place in a mountain stage and 18th overall to his credit.
"It was a total mistake, I was not prepared, I was not mentally ready...
I was someone else, not the true Damiano Cunego that everyone knows," he explains.
"The image you saw wasn't of the normal competitive and winning rider. When I can't work well and put it together I am not a good person to be around, I am nervous. I saw it and the others noticed it as well."
High hopes
Cunego trained in Tenerife to start his 2009 season. It seemed to have worked; he returned and immediately won two stages and the overall of the Coppi e Bartali race. He continued well, placing in the top 10 of all three Ardennes Classics, but something was not clicking.
"My feelings were off. For example, if I had to do 10 things in training then I told myself I only needed to do seven. Doing fewer intervals, not enough climbing... this adds up in the end."
Cunego retreated and came back strongly in the autumn, even if he had not fully dealt with that high fence around him. Urged on by Lampre's directeur sportif Brent Copeland, a South African, and Italy's late national team boss, Franco Ballerini, Cunego faced the end of the season.
He started the Vuelta a Espana without any aspirations to win it, freeing him to claim two mountain stages and prepare to lead the Italian team at the World Championships in Switzerland.
"I rolled up my sleeves and I had a great Vuelta," he says. "That was the true Damiano Cunego."
After his first stage win at Alto de Aitana he was fourth overall. Wanting freedom to escape and win a second stage, he decided to sit up and lose time.
"It gave me the freedom to place myself in a move and win another stage," he says.
Cunego won the stage to La Pandera and then looked ready to lead Italy to its fourth straight win in the Worlds. Ballerini directed the whole team, including Filippo Pozzato and Ballan, to work for Cunego, but his plan came undone with Cadel Evans's attack.
Cunego was still one of the strongest in the race, but lacked that little bit of punch he normally has in one-day races. Though Italy was one of many losing teams, its loss opened the doors for criticism, and the team didn't waste the opportunity for some drama. Pozzato claimed Cunego had not created a great team atmosphere and that the team needed a charismatic leader, as Paolo Bettini was.
"If we had won then everything would have been great. Since we lost, the criticism was directed towards me," Cunego explains.
"It is hard to put it all together when you see some of those team-mates only a few times a year. All of a sudden, you are the captain but how do you do it? Tell your team-mates to do this and that, but it is difficult when they are people that you do not know that well."
Lone leader
Giuseppe Martinelli, who now directs Alberto Contador at Astana, discovered Cunego and worked with him for his first five years as a professional. He agrees that Cunego has a hard time forming a cohesive group.
"It's his character, he is introverted," Martinelli says. "He prefers to remain alone and that doesn't help in forming a group of riders. He has his own characteristics and those, you know, are hard to change. But he has time and he can still make some adjustments."
"In the future, if I am the leader again," continues Cunego, "I will try to state clearly from the outset what I want."
When Cunego says, "In 2010, you will see another person," he is not referring to race wins, but attitude, tearing down that high fence.
"I was OK in 2007 and 2008, but it was just a negative period for me and my team-mates noted it. I understand the problem — I was a little closed, my head was not clear — I am trying to become better."
Boy to man
He does not say it, but making the adjustment from the 22-year-old boy who won the 2004 Giro d'Italia to a well-rounded adult has been hard. It has been a lot harder than his transition from single life to the man who supports his daughter and pregnant wife. He is clearly comfortable in the latter, but adjusting to the former.
"I have to remain calm, train well, be polite with everyone, always talk to my team-mates, inform the others how I am doing and find out how they are doing. Last year did not go well and it probably ended up being a good thing for me, because it has forced me to become a better person."
Part of remaining calm is relinquishing his hopes of winning a Grand Tour. He will still aim for a win in the Ardennes Classics, above all Liège-Bastogne-Liège, and then race the Giro d'Italia and Tour de France aiming for stages.
He pulls out a sheet of paper. Printed on it are the stages of the Giro d'Italia — not just the distances and the metres in climbing, there are also the transfer times between stages, the location of the day's hotel, the past winners and, to the side, notes scribbled by him and Copeland.
"Stage eight, Terminillo, could be a stage to try something," he says, pointing at the paper. "The interesting stages are all the ones here at the top: Plan de Corones, Zoncolan, Aprica.
"I won the Giro, I finished fourth, fifth... showed that I am a classification rider, but now, a little out of necessity and for serenity's sake, I am going to aim only for stages. In these days, to place third or fourth at the Giro is important, but people remember you better if you win a stage: the sponsor is happier, everyone is happier."
Stage by stage
The plan is the same for the Tour de France. Cunego returns to France two years after he crashed face first in the Saint Etienne stage and four years after he won the white jersey.
"I can't win the Tour de France, but if I win a stage then I would be the happiest man in the world. Already, in 2006, I was close on the stage to Alpe d'Huez. Only Frank Schleck stopped me."
An unstable situation with sponsor Lampre may force Cunego to develop further as a person and rider. Last autumn, he renewed his contract for only one year and he is considering a team change at the end of this season.
"I always say to any rider that a change is as good as a holiday," Copeland explains.
"It's good to learn a different mentality, to learn a different culture, to learn a different language. Whether it is Cunego, Ballan or anyone."
Cunego has never changed teams. He turned professional with the Saeco team in 2002 and stuck with the team when it merged into Lampre, never leaving Italy and always based in Cerro Veronese.
"He comes from that part of Italy, up in the mountains. They are quite stuck in their ways and it is a different mentality, a different culture," Copeland continues, echoing what Cunego has told us.
Where does Cunego go from here? The Italian press has linked him, like many other riders, to Team Sky. However, Cunego says he has not heard anything from Sky, though he says his agent had heard that Sky was interested.
Italy only has two ProTour teams, Lampre and Liquigas, the latter of which is already a crowded house with Ivan Basso, Vincenzo Nibali, Roman Kreuziger and Franco Pellizotti. Abroad appears the only path for Cunego if Lampre's manager, Giuseppe Saronni, does not entice his star to stay.
"All of the new technology: a team with a cook, a physiotherapist, all the latest time trial bikes... Lampre is also reaching that same mindset. 'Piano, piano,'" Cunego says with a grin.
"I will stay where I have all the guarantees to allow me to reach my maximum potential and, obviously, taking into consideration the economic package. This does not mean I will stay at Lampre or that I will go away, but whoever makes the best offer...
"The foreign teams are coming into cycling and sooner or later you have to learn the language. I understand English, I speak a little but then I have difficulty. If you go abroad you have to speak it. But this is not the problem, I can learn.
"The future is with these teams. Abroad: Great Britain, America..."
Just as Damiano Cunego welcomed Cycle Sport into his home, opening up the gates after checking the security camera, he appears ready to embrace something new.
Cunego on drug taking: Why dopers must be punished
Some of the best and worst news about doping comes from Italy. On the one hand, the Italian Olympic Committee has prevailed in its attempt to ban Alejandro Valverde from competition for his involvement in Operacion Puerto. On the other, Basso, Di Luca, Rebellin, Ricco and any number of big stars have tested positive or confessed to doping in recent years.
When Cunego started his career in 2002, it was a different era, and he now wears a very visible symbol of the change in attitude within the peloton in the last few years.
In 2008, Cunego went from following the code of silence to creating the "I'm doping free" campaign. Starting at the Tour de France, he took to wearing rub-on tattoos at major races bearing the slogan and a smiley face. The campaign continues today; other professional athletes and a handful of pro cyclists have joined Cunego in wearing the tattoos and promoting clean competition.
"I will likely wear the tattoo again, above all at the important races, where it can be seen," explains Cunego. "I want a better cycling, I am not afraid to wear it or to be judged by others.
"Some of my colleagues need to put it on as well. You have to have courage..."
It was easy to carry the discussion over to Riccardo Ricco and Danilo Di Luca, two of Italy's recent high-profile cheats. The two have had their share of attention in the press while serving suspensions and Di Luca was even invited as a special guest in RAI television's coverage of Tirreno-Adriatico's stage to Chieti.
Di Luca's slip, saying he would join Cunego's Lampre when his suspension ends, made the headlines, but the bigger headline should have been why he was even on RAI's show.
"Oh Dio!' says Cunego on the subject. "If someone is disqualified, it is better that they are not seen on television. It's a question of principles. If I were him, I would stay at home."
Ricco's 20-month suspension ended two days after Cycle Sport visited Cunego, but Cunego thinks that is too soon and that Ricco has had too much attention in those 20 months.
"He served his suspension. Fine. What I noticed, though, was that people like him have had too much space in the newspapers and on television. Let's remember, he was disqualified.
He had more space than some riders who won.
"These riders should re-enter through the servant's door, not be extended a red carpet. You should build up the trust you lost, win and make a good impression, all racing cleanly.
"Those who make a mistake, after all we have said, deserve a big suspension. A life suspension is a delicate thing, but certainly one that is longer than two years. Then you would see a rider think hard before doping. If you are not harsh they will take advantage, serve a short suspension and re-enter as if there was no problem."
Thank you for reading 20 articles this month* Join now for unlimited access
Enjoy your first month for just £1 / $1 / €1
*Read 5 free articles per month without a subscription
Join now for unlimited access
Try first month for just £1 / $1 / €1