Dan Martin looking for more success in 2012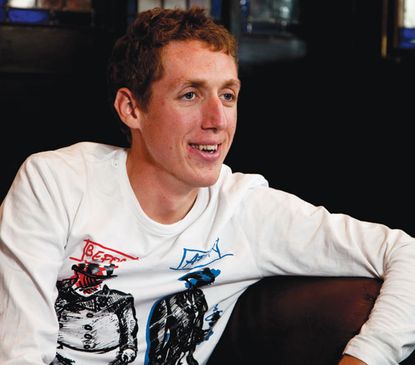 It's a grim October day, but Dan Martin's competitive edge is still shining through. He tries to ride the unicycle that has outfoxed most of the Cycling Weekly office and led to lots of acrobatic falls.
Martin doesn't quite manage it, but he has enough natural balance to avoid a fall and painful 'Cycling Weekly unicycle injures top cyclist' headlines.
Unicycle challenges aside, Martin is still racing around from the Tour of Lombardy to cycle store openings and sponsor commitments; soon he's off to South Africa for a friend's wedding.
But before then, exotic Croydon is his next destination for a spot of chiropractic and a catch-up with friend and Garmin-Cervélo back-cracker Matt Rabin and the Cycling Weekly team.
With a winter wind-down firmly on the cards, a small mob of us take him to our local pub, the Crown and Pepper. With his long white T-shirt and adolescent appearance, it's hard to believe the 25 year old doesn't get asked for ID in pubs, let alone that he's just finished his fourth year as a professional.
But it has been a coming-of-age year for Martin. He's put a growing killer instinct to good use, winning a Vuelta and Tour of Poland stage and finishing second at the Tour of Lombardy. Now ninth in the world rankings, Martin has added consistency to his repertoire and is carving out a reputation as one of the generation's top climbers. A Tour de France start beckons in 2012.
Missing out on the sport's biggest race is one of several anomalies in Martin's career so far. If you wondered why he often knits together a stunning autumn with a sluggish spring, it's because of the pollen allergies he suffers from in the first half of the year, which Martin describes as like "having 20 per cent of your heart rate taken away".
The son of 1980s British domestique Neil and the nephew of Stephen Roche, his background and accent stubbornly anchor him to the Midlands even if his passport says Ireland. Switching nationality was a teenage choice. There was no track-centric British cycling production line for Martin: he did it the hard way, grafting for three years in France with the Marseille-based La Pomme amateur team.
Given these differences, perhaps it's no surprise that Martin doesn't seem quite at ease with himself. But the slightly awkward, angular exterior conceals a deep self-assurance on the bike, and a man increasingly comfortable with the pressures of leadership.
As Martin explains, he's been surprising fellow professionals with his driven and exacting attitude since day one.
In fact, as he sits down with a J2O - no Guinness for this Irishman - in the pub, it transpires that he's not quite content with this breakthrough season.
There have been no well-done presents to himself or excessive self-congratulation. Evidently, Dan Martin's not patting himself on the back until he reaches the very top of the sport.
CW: What do you make of the 2012 Tour de France route?
Dan Martin: A lot of stages suit me. I wouldn't be going there as GC leader, more for stages. It's going to be a really good race, it's so... unpredictable. There's going to be a lot of crashes in the first week again next year. I'm not going to base my whole year around the Tour; I don't think I'll ever do that.
CW: In the winter, are you the kind of rider who lets his hair down and gets partying out of his system?
DM: In Spain, you have to be really committed to going out and do it till 6am. It doesn't get good until 2am. Everything in moderation. I'm not teetotal all year round. When it finally gets to showtime, I'm really committed.
CW: Did you move to Girona because the team was there?
DM: Yeah, I guess I could have lived wherever I wanted, but I do really like the town. I ride a lot with the Aussie boys: Christian Meier, the Canadian, and [Jack] Bobridge. Bobdog. The days seem to go too quickly. Especially at this time of year, a two-hour ride turns into three and a half hours because you sit on the beach and have some coffee. Being in Girona has been the best part of my life. It's really relaxed.
CW: So you're assimilated into the Spanish way of life?
DM: At the Vuelta, stages don't start till one o'clock every day, so you'll be in bed at midnight and not eating till 10 every night. When you come back here, I'm eating at my grandma's at six o'clock. It's lunchtime still! [laughs] I don't do much cooking though, I tend to eat out when I'm in Girona. It's more a social thing.
CW: Do you miss the UK?
DM: Not at all.
Martin and Garmin-Cervélo chiropractor Matt Rabin share a joke about the latter's lack of cycling knowledge.
DM: Matt still doesn't know who a lot of famous cyclists are. And his tactical advice isn't great. "Oh yeah, you could have won that easily."
Matt Rabin: Go faster. Pedal harder! But not knowing much about the sport, you can get close to the riders, but still have an objective medical opinion.
CW: How do you keep it fresh?
MR: I only do 100 days with the team. I don't work enough in one thing to get bored of it, so it's always exciting. The balance and variety is there.
CW: Matt, who's the hardest case to work with - the most screwed up?
[Matt looks over at Dan and laughs]
DM: [mock protesting] I had two days at the Tour of the Basque Country in April. I've been OK!
MR: Is that all? There are one or two riders who are phenoms, you really don't have to do much. Dave Millar, for example, there's rarely anything wrong with him. Sometimes I'll check him over after a race, I'll be there for five minutes and say, "There's absolutely nothing to do, Dave."
Jack Bobridge is a strange one, too. The way you treat Jack affects the way he rides. Do one thing and the next day he'll be swinging off the back and hardly able to stay awake. When you're trying to get people back on track, the body almost shuts itself down to heal it, so you have to be careful how you treat certain riders.
Another round of drinks ensues, and the pub grub arrives with questionable speed. Does that mean that it's going to be disgusting? Apparently not as Martin tucks into his jacket potato.
CW: Doing it alone through the French amateur system is an impressive achievement. Did you always think you would turn professional or was it more of a gradual thing?
DM: There was no question. I didn't have any doubts, really. I don't know why but that in-built confidence has lasted me until now.
CW: Did you see your uncle, Stephen Roche, much in his heyday?
DM: Not much. I was too young, I was one year old when he won the Tour - and he was in Ireland. The same with seeing my dad [former British amateur champion Neil Martin] - but in fact, I've got that racing instinct because I came from a pro cycling household where it was on TV all the time.
CW: Did your dad stop racing as soon as you beat him? Did this create any tension in your family?
DM: [laughs] I actually rode my first race with him, though I didn't start racing till I was 16. At first, I was going riding for the social side of it: spending all day preparing for a five-kilometre race on a racing circuit didn't interest me whatsoever. Then I started winning and it was like, "Ah OK, here we go." I think in the UK, it's that annoying thing, the challenge to rise up from anonymity.
CW: Well, in five years, you've gone from complete anonymity to being a star. Has it changed your personality?
DM: I'm a bit more confident now, as far as saying what I'm going to do. The other pros were pretty stunned. When I first turned professional, I was like, "I want to win this race." I was so used to winning in the amateurs, it was a natural thing for me to do. And then actually winning [he won the Route du Sud in 2008]... some people in the peloton took it the wrong way.
You see this big stigma in cycling as far as, even a few years ago, neo-pros were the ones who would get bottles and never had their opportunity. Now it's changed: the Garmin team comes to races and says: "We don't care who you are or what you've done before, if you're the best on that day, we're going to work for you." I'm incredibly fortunate to be in a team like that.
CW: What kind of thing makes you attack in the first place?
DM: I just do it my way. I give it a bit more and a bit more. [Garmin team manager] Jonathan Vaughters was saying: "Keep doing it, it's great tele-vision" and I was like, "Yeah, but..." The number of times I've attacked and thought: "Why the hell did I do that? Now I've got to go full gas all the way to the finish, it's gonna hurt like hell." You think something like: "I've done it now, I might as well continue."
I've been here and there the last three years and this season, every race I've done I've been really involved in - that's what's made me really happy.
I got three podiums in ProTour races. It's been a big year, and hopefully I'll have a bit of a stronger team round me next year, I'll hit the year stronger and start winning these kinds of races.
But it's funny: guys don't believe you're good till you win a race where they're at. It's quite a strange thing. When they're not there, they can say things like: "It must have been easy." If you actually start getting results in front of them, then they respect you.
CW: There's really nothing to beat first-hand experience then?
DM: Exactly.
CW: Do you feel the pressure or worry more now?
DM: Sometimes. But I tend to think if my team-mates believe in me enough to work for me, why should I not? I do have moments: all day in Lombardy, I felt terrible. But I obviously still had the form from the Vuelta. It was the team-mates working for me and saying: "Look, come on, you can win this." I do it for me, and if I fail, I know the guys will be happy as long as I've given my best.
I do know my body really well too, my coach [Adrie van Diemen] recognises that. I can still get results when not feeling good, it's nice [laughs]. It's become a bit of a joke - whenever I go to a race and say: "Oh, I feel s**t, I can't be bothered," I actually get a good result. The Memorial Pantani [in October] is a good example. I rode at the back all day, sprinting up the side of the bunch, using it purely for training. I felt terrible, but at the finish it was like, "I might as well..." [he finished third].
CW: Did you give any presents to yourself for a good 2011?
DM: Not really. I don't really see it as being the end. It's just happened, it's all done and dusted, I'm just proud of how I'm doing it and the results I'm getting - and enjoying it as well.
Martin's killer instinct
Excitement in his voice, Dan Martin can pinpoint the mental metamorphosis that takes place when he gets near a finish line: "It's a psychological thing. There's really nothing like it. With the Vuelta stage win [on the climb of La Covatilla], I had to go so deep to stay there, but I knew if I stayed there, I'd win.
"My finish line was a kilometre to go. Once I'm there, something switches in my brain. There's a photo of me going over the line, I look so cool and relaxed. But with 200 metres to go, everything shuts down, I stop breathing, even though I'm absolutely on the limit. Afterwards I'm panting."
The exacting attitude continues even after he wins. "Everyone always laughs at me because I'm never happy when I win [smiles]. Even when I do win, it's like.
'I could have won by 40 seconds, not 30.' I always want to do my best."
This article originally appeared in the December 1 2011 issue of Cycling Weekly magazine
Thank you for reading 20 articles this month* Join now for unlimited access
Enjoy your first month for just £1 / $1 / €1
*Read 5 free articles per month without a subscription
Join now for unlimited access
Try first month for just £1 / $1 / €1