Dave Brailsford receives knighthood from the Queen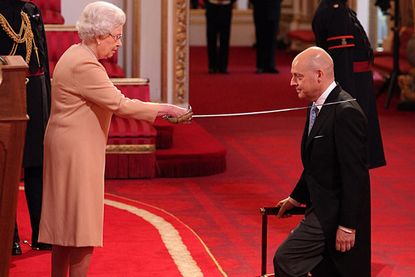 (Image credit: PA Images)
Dave Brailsford was knighted by the Queen at Buckingham Palace today as many of the athletes from the 2012 Olympic Games received their honours. Brailsford, along with Bradley Wiggins, was knighted at the end of 2012 after another successful year from Britain's cyclists.
"It means so much and is such a humbling experience, I'm very proud," Brailsford said. "We talked about about the Olympics and how proud everyone was and what a great event it had been."
As team principal at Sky and performance director of British Cycling, Brailsford has been in charge of the renaissance of British cycling that continued at the track cycling world championships in Minsk last week.
2012 however was a standout year for cycling in Great Britain. Bradley Wiggins became the first Briton to win the Tour de France in July and ten days later won his seventh Olympic medal (four of which are gold) in the men's time trial.
Within days Sir Chris Hoy, knighted after the 2008 Olympic Games, won his sixth Olympic gold making him Britain's most successful Olympian ever.
This came after a successful world championships in April and year of success on the road where British pro's won 68 races and Mark Cavendish rode in the rainbow jersey of world champion.
Jason Kenny received his OBE today while Joanna Rowsell received her MBE. Wiggins will receive his knighthood later in the year.
Dave Brailsford knighted by the Queen
Jason Kenny receives his MBE
Thank you for reading 5 articles this month* Join now for unlimited access
Enjoy your first month for just £1 / $1 / €1
*Read 5 free articles per month without a subscription
Join now for unlimited access
Try first month for just £1 / $1 / €1