David Millar loses controversial CPA rider's union election to Gianni Bugno
The controversial election went ahead, despite protests from big name riders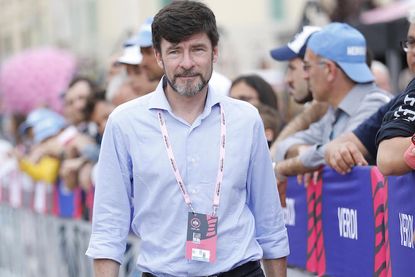 (Image credit: Yuzuru SUNADA)
David Millar has lost the election to become president of the professional cyclist's union to incumbent Gianni Bugno.
The Cyclistes Professionnels Associés (CPA) election went ahead in Innsbruck, Austria on Thursday, despite protests from riders including Chris Froome and Geraint Thomas.
The final result was Millar with 96 votes to Bugno's 379.
>>>Why pro riders including Chris Froome and Geraint Thomas are protesting against their union
Millar said on Twitter after the election: "In all sincerity, respect to Gianni Bugno and I wish him every success in leading the CPA.
"I hope this past month accelerates a much needed change in how the riders and the union work together."
A dispute broke out around the first ever CPA election after Millar put his name forward to lead the union.
The CPA presidency has been handed from one leader to another without a vote since it's inception in 1999.
But this year for the first time an election was held, causing riders to protest against the voting process.
Riders that were eligible to vote had travel to Innsbruck during the World Championships to vote in person.
Many nations also cast their ballot through a block voting system, where one official would be granted the power to vote on behalf of all riders from that country.
Riders who were represented by this block system were then barred from voting individually.
This caused huge discontent amongst many riders who wanted to vote for Millar and felt the election process leaned heavily in favour of the Italian Gianni Bugno.
Chris Froome, Geraint Thomas and 25 other top cyclists from around the world signed a protest letter, addressed to Bugno, asking to postpone the "unfair" election that they said was being "forced through."
Former Scottish professional David Millar announced two weeks ago that he would run for president and challenge Gianni Bugno. Bugno won two world titles and the Giro d'Italia before retiring.
Cyclists from Great Britain, Germany and most of the international cycling peloton have said they could not find time or resources to visit Austria for the vote.
The controversial election went ahead, despite protests from big name riders.
Thank you for reading 20 articles this month* Join now for unlimited access
Enjoy your first month for just £1 / $1 / €1
*Read 5 free articles per month without a subscription
Join now for unlimited access
Try first month for just £1 / $1 / €1