Dean Downing and Helen Wyman win Sheffield Grand Prix races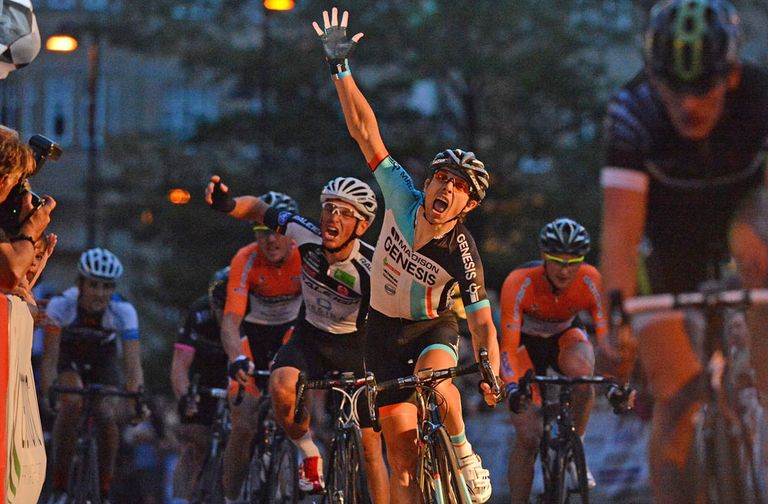 Dean Downing (Madison-Genesis) and Helen Wyman (Kona) took the respective men's and women's wins at the Sheffield Grand Prix on Wednesday evening.
The outcomes of the two races couldn't have been more different, with Wyman taking an impressive solo win ahead of a chasing Hannah Barnes (MG Maxifuel). Eileen Roe (Breast Cancer Care) came home for third.
Downing, meanwhile, was the winner of a scrappy sprint that saw the lead group get caught up with the back of the field of the men's race. Downing won the final round of the British Cycling Elite Circuit Race Series ahead of Graham Briggs (Raleigh) and brother Russell Downing (NetApp-Endura) in third.
Both Briggs and Russell Downing appealed the result as they were impeded in their sprint, but the race judges ruled that the result should stand.
George Atkins (100% ME) placed ninth in Sheffield to secure overall victory in the Elite Circuit Race Series ahead of Briggs in second and Felix English (Rapha Condor JLT) in third.
Results

Sheffield Grand Prix 2013: Men's race
1. Dean Downing (Madison-Genesis)
2. Graham Briggs (Raleigh)
3. Russell Downing (NetApp-Endura)
Men's Elite Circuit Series final standings
1. George Atkins (100% ME)
2. Graham Briggs (Raleigh)
3. Felix English (Rapha Condor JLT)
Women's race (round eight of BC women's national road series)
1. Helen Wyman (Kona-FSA Factory)
2. Hannah Barnes (MG-Maxifuel)
3. Eileen Roe (Breast Cancer Care)
Hannah Barnes
Helen Wyman wins the women's race
Champagne celebration on the women's podium
Sheffield Grand Prix
Russell Downing leads brother Dean
Dean Downing wins
Russell Downing, winner Dean Downing and Graham Briggs on the podium
Related links
Full photo gallery from the 2013 Sheffield Grand Prix, by Andy Jones