Dr Hutch: The aesthetics of the 'chest-fairing' is a funny hill to want to die on
The earnest buffoonery of budget aero hacks may rile TT diehards, but Cycling Weekly's columnist salutes the cut-price cunning of their innovations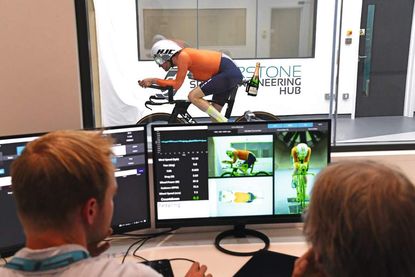 (Image credit: Future)
It is possible that you don't keep abreast of UK time trialling news as assiduously as I do. If so, you're missing an excellent debate that brings together many of the things that are best about cycling – original thinking, sneakiness, vested commercial interests, the laws of physics and, of course, people shouting "Over my dead body!" about all of the above.
The story is about recent aerodynamic hacks. Such as always putting a bottle behind the saddle, even if there's nothing in it, where it fills in some of the wake behind a rider. Or getting a small gain by putting an energy gel (in its wrapper) on your instep under an overshoe. Or using a chest-fairing under your suit to manipulate air flow round the torso.
There are numerous tricks like this that people have stumbled across. Most of them are the sort of thing you could have done fifty years ago, but fifty years ago it was very difficult to measure the result accurately enough to know if they worked. Back then, if you'd ridden around with energy gels (or, more likely, malt loaf) carefully stuck to your shoes and claimed it made you go faster you'd just have looked like a crazy person.
Better aero-testing means that over the years the line between "crazy person" and "time triallist" has blurred somewhat.
For example, chest fairings featured pretty heavily at the National 10-mile Championships earlier this month. I should explain that "chest-fairing" is a very fancy way to describe what is, more often than not, a plastic bottle stuffed down the front of your skinsuit in line with your sternum.
It can be a 500 ml bidon, a 1.5 litre soft drinks bottle, or anything you fancy. It will make some people faster, and some people slower. Some will be unaffected, some will decide it's not for them.
On the other hand, there is total unanimity among people who don't have a bottle stuffed down their suit that it is wrong. Very, very wrong. Various time triallists of my acquaintance have described it as, "An outrage", "A bridge too far" and, "It's only legal because there's no rule against it."
As always, the complaint is aesthetic. It looks stupid – and it certainly does. But this seems a funny hill to want to die on. Time trialling is the comedy branch of the sport, and I say that as one of the most committed time triallists there has ever been. Not content with pointy helmets, mirrored visors and rubber overshoes, in recent years we've even imported from triathlon their odd collection of bolt-on plastic "storage" boxes without comment, as if it was totally normal to design a lunchbox in a wind tunnel and aim it only at people whose lunch consists of a large-size Toblerone.
Put bluntly, no one in cycling looks as odd as we do. In fact, almost no one outside cycling who's not making a living on the cabaret circuit looks as odd as we do. In this context stuffing household items into your suit in the pursuit of speed seems admirable. We're fusing sport and aerodynamics with installation art.
The thing I like best is that this sort of thing is generally cheap. No-one seems to have a problem with riders gaining a few seconds by spending £10,000 on a new bike, or by buying knee-length aero overshoes, the most sophisticated of which can cost £600. It seems wrong that the optimisation that gets everyone up in arms is one that's essentially free.
It doesn't matter what I think, because it's almost certain that it will be banned for next season. Although on previous rule-making form in the world of cycling, there's a good chance the legislation will actually ban something else by mistake. I wouldn't want to be trying to sneak a pair of breasts into a bike race next year, for example.
Thank you for reading 20 articles this month* Join now for unlimited access
Enjoy your first month for just £1 / $1 / €1
*Read 5 free articles per month without a subscription
Join now for unlimited access
Try first month for just £1 / $1 / €1