Dr Hutch: Why do gym bike saddles require a Lego-shaped buttocks to be rideable?
Cycling Weekly's columnist details the nuances of a standard gym steed - on which a square derrière would be highly beneficial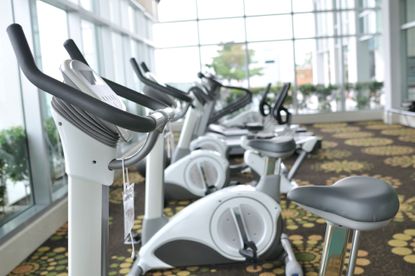 (Image credit: Getty Images)
Michael Hutchinson is a writer, journalist and former professional cyclist. His Dr Hutch columns appears in every issue of Cycling Weekly magazine
I was on holiday last week. If you're thinking, "Lucky Dr Hutch, on the warm sunny roads of, say, Lanzarote," let me add the cold-blooded clarification: I was on a holiday with an itinerary that included no plans, provision or allowance for cycling.
This can be traumatic. It's not the worst time of year for a break, but all the same, if you're a cyclist, you want to keep riding. It's bad luck to let saddle sores heal.
Faced with such a scenario, you can try to take a bike anyway. I once took one on a boating holiday, perhaps because I'd forgotten they don't float. At least it meant that no one noticed when I made the stupid mistake of re-building it in the cabin and discovered that it wouldn't fit back through the hatch.
There are some holidays where cycling simply doesn't work. And then you have two options. Just stop riding. Or… a hotel gym.
To locate the gym, just find the hottest room in the hotel. It will be at least high 20s in there, and probably beside a swimming pool to ensure 100% humidity. Clearly architects have noted that people in gyms look hot and sweaty, and assume they'll enjoy a workout more if they are even hotter and sweatier.
Next, try to find the bike. You may struggle to pick it out from all the other black and grey plastic, because the design usually seems to have been handed over to one of the highway-workers responsible for those weird hieroglyphs that they put on bike lanes.
I don't know the details of the design process, but I'd guess it also includes discussions along the lines of, "What length are the cranks on a bike?" "Well, according to the internet, they're almost universally between 165 mm and 175 mm." "So shall we say 120 mm?"
Followed by, "Now, the side-to-side distance between the pedals – let's make that as big as possible? Like the pedals on a horse, yes? And for adjusting saddle height, two-inch increments? Like trousers."
I'm willing to accept that the sort of saddle most of us are used to on an actual bike won't really work for most gym users. But if there's one thing I've noticed from my recent time in a gym, it's that however inexperienced a gym user might be absolutely none of them have the Lego-shaped buttocks required to interface with a gym bike's saddle. Somewhere out there is a gym bike designer with a huge square backside and a gap of about a foot between their thighs, who's completely baffled at what everyone is complaining about.
There are the bonus features. "It would be a nice idea," I assume a designer said, "if there were electrodes on the bars that measured the user's pulse."
"Yes," came a reply, "but that's really hard to do."
"No it's not. Just set it so it always says 135 bpm."
Manfully I battled all these deficiencies. I even managed to do the toe straps up tightly enough to cut off the circulation to my feet, as the old-school riders of my acquaintance tell me is required. And I twiddled away for an hour on the little kiddy cranks while the saddle grew squarer and harder with each passing minute, with the sort of determination to make myself miserable that make us time triallists such a hit at parties.
By the time I'd finished there was a river of sweat that reached the door. A woman in leopard-print leggings used a Step to make a bridge over it. A sort of exclusion zone formed around me. I was as popular as a gendarme with a warrant at a Tour hotel.
It took the full hour before it dawned on me that maybe they make gym bikes like that on purpose to keep people like us out of hotel gyms.
Thank you for reading 20 articles this month* Join now for unlimited access
Enjoy your first month for just £1 / $1 / €1
*Read 5 free articles per month without a subscription
Join now for unlimited access
Try first month for just £1 / $1 / €1