Dulwich Paragon cycling club reaches 500 members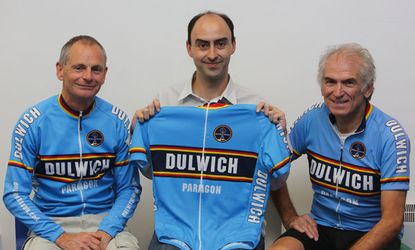 Get The Leadout Newsletter
The latest race content, interviews, features, reviews and expert buying guides, direct to your inbox!
Thank you for signing up to The Pick. You will receive a verification email shortly.
There was a problem. Please refresh the page and try again.
Cycling in Britain may be booming, however some old-school bike clubs are finding it hard to entice new recruits. But that's not a problem for Dulwich Paragon, which recently reached its landmark 500th member.
"We've actually come from a pretty low base - in 1983 or '84 we were down to about 20 to 30 active members," club chairman Nigel Wood said. "Then, in about 1990, we had some club members who realised that we couldn't continue like that or we'd fizzle out.
"The key to it was organising some informal rides - almost like a SkyRide ahead of its time - where new or prospective members could come to Crystal Palace at 9am and go out for a 25 or 30-mile escorted ride at a steady pace and wouldn't get dropped. From that low base it's really been an incremental increase to the point where we are now.
"We've had people turn up on mountain bikes with very little clue, but some of them have progressed right through and their interest might have developed into sportives or racing. We've now got more second-category riders than I can ever remember us having - 14 - with one first cat and another knocking on the door."
Part of the south London organisation's success is down to a very equal partnership between club and member. "I don't think it's just good enough to be a club and give people a jersey," Nigel explained.
"So, as well as benefits at local bike shops we also have things like bike box hire, track bikes that club members can use free of charge, tool hire - things that add value to being a member.
"We're also very keen to tap in to the talents that people in the club have got and we have a very wide definition of what constitutes volunteering. For example, we have solicitors in the club who help with free legal advice, or club members who work on our website.
"Interestingly, we don't actively recruit or seek new members. What we find is that many people looked at other clubs but might have had negative experiences, like getting dropped on club runs. That has never been our ethos - we've always tried to encourage people to join at a level they feel comfortable with."
Nigel Wood [l] and David Joss-Buckley [r] welcome Bejamin Arroyo to the Dulwich fold
Keeping the home fires burning
Body: "Dulwich Paragon has always prided itself on having and welcoming women members," Nigel Wood said. "In fact during the War years when a lot of the men were enlisted, women were the backbone of the club.
"During that time a couple of male members who weren't called up kept the club magazine going. Copies were sent out to club members fighting the war and some issues published letters from members, in the trenches in North Africa, saying how this club lifeline was one of the things keeping them going."
Ben 500
So who is this 500th member of Dulwich Paragon? Benjamin Arroyo, 33, is an IT consultant originally from San Fernando, near Cadiz in Spain, now living in Brixton.
"I've been cycling for a long time and then I moved to London two years ago and bought myself a cyclo-cross bike. After a year of having it I decided to race, so I started looking for a cycling club near where I live in Brixton," Benjamin said.
"I went to one of the rides the Dulwich Paragon does on Saturday mornings for new members, I saw I could keep the pace, and then discovered they have a special section in the club for cyclo-cross riders. So I said: OK, looks like this club ticks all the boxes.
"My passion for cycling comes from a long time ago. My grandad was a very serious cyclist. He was a big fan of one of the football teams that played in Seville, so he used to cycle once a month from Cadiz to Seville - which is 140km - watch the football match, and then cycle back the same day! All on water and a piece of bread."
This article was first published in the September 20 issue of Cycling Weekly. You can also read our magazines on Zinio and download from the Apple store.
Thank you for reading 20 articles this month* Join now for unlimited access
Enjoy your first month for just £1 / $1 / €1
*Read 5 free articles per month without a subscription
Join now for unlimited access
Try first month for just £1 / $1 / €1
Get The Leadout Newsletter
The latest race content, interviews, features, reviews and expert buying guides, direct to your inbox!