eBay sale of Obree bike ends 20 years of enmity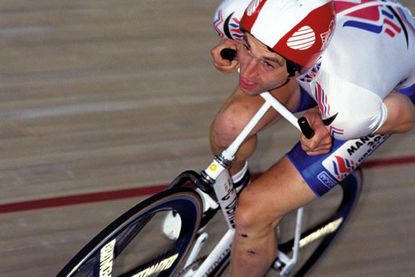 A bike built for Graeme Obree's 1993 Hour record in Hamar, Norway has been sold on eBay for £10,000 by his former manager. When he spoke to Cycling Weekly shortly after the auction ended on Thursday afternoon, Vic Haines had not yet been contacted by the buyer, who put in the winning bid with five seconds to go.
Haines said: "I just wanted to get rid of the bloody thing. Every time I look at it it reminds me of that prat Obree, and he owes me 45 grand."
Obree broke the Hour record on July 17 1993 riding his own home-made 'Old Faithful', riding 51.596km. The day before, he had failed to beat it using the bike Haines had built for him, a replica of Old Faithful built by London bike shop Shorter Rochford with aerodynamic carbon fairings added by engineer Mike Burrows. It is this bike Haines has just sold.
Haines, the fast-talking Essex businessman and Obree, the eccentric Scot who suffers from bipolar disorder, were cycling's Odd Couple until Obree's family decided Haines was controlling the Scot's life and wanted him out of it, according to Haines. And now, over 20 years on, Haines finally wants Obree out of his life too.
"He lived with me for nearly three years and I paid off his mortgage, put double glazing in his house - which had no glass in the windows - to remove all his mental stress so he could get the world [hour] record," says Haines.
"I don't want to come across as bitter and twisted but I want to get Graeme out of my life, because I've got a lot of baggage and people still don't know the truth of it all and I'm fed up with it. This is the first bit of clearing him out. Not in a nasty way."
Haines believes Obree didn't want to break the Hour record on the bike he had made for him. Obree rode the replica bike - which should have been faster than Old Faithful - in his first attempt to beat Francesco Moser's distance of 51.151km. But he made a last-minute decision to ride a bigger gear and lower his front end.
According to Haines: "He [Obree] said, 'I'll be more aerodynamic and I'll go faster on a bigger gear.' I said right, let me stop you there. The set-up we have now, that we've tested, is perfect. This is more aerodynamic than your bike, you've never had a monoblade [fork with a single blade] in, it's the fastest thing on two wheels; you're going to do it anyway [Obree had already beaten Moser's record in training]. Plus, if you put it out of reach, what are you going to do next week? Because all you can do is ride round in circles.
"You've got to beat your own record by two seconds every time and I'll get you a hundred grand every time you do it. But he said 'no, no, no, I want to do this, I want to prove I'm better than Boardman'. So he dropped the front, upped the gearing and I said, you do realise your knees are going to push your stomach up into your lungs and it's going to inhibit your breathing? Plus, halfway through you're going to be labouring because this gear [54x12 instead of his usual 52x12] is too big.
"Anyway, halfway through he had a big red face like a tomato - and I've never seen this guy struggle - and he was all over the track. The next day he was back on Old Faithful. Now I think he never wanted to use the bike I built - I think he always wanted to do it on Old Faithful but just had to find a way to do it. That's my belief and that of everyone who was there."
Obree told the Herald Scotland earlier this week that he did not owe Haines money. He said: "I was hoping I would no have to go into all this. I have learned humility and to let go of what you can let go. If he makes a few quid out of selling the bike I have no problem with that."
Related links
April 2011: Faithful to Old Faithful: Obree's bike recreated
Thank you for reading 20 articles this month* Join now for unlimited access
Enjoy your first month for just £1 / $1 / €1
*Read 5 free articles per month without a subscription
Join now for unlimited access
Try first month for just £1 / $1 / €1