Ed Laverack's rise to Rapha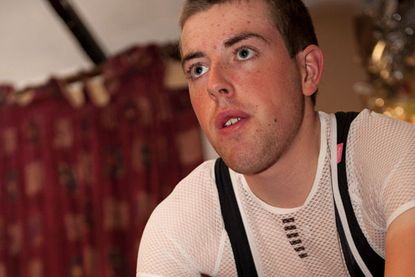 Meet Ed Laverack. Twelve months ago, the 18-year-old Welshman was starting his first full season of racing. He now forms part of Rapha-Condor JLT's 2013 team.
Improving from third to first-cat is impressive in itself. That Laverack's rapid ascension came while he was still at college is an even more impressive feat.
"The problem with college was that most days I would start at 8.30am and finish at 4pm," said Laverack. "The only way to train around this was to wake up at 4am and go out riding early.
"I rode in the lanes around Llanelli, so it was unlikely that I would see anyone else out at that time of the day. I really enjoyed having the roads to myself, but it was still hard to get up and train when it was cold and wet!
"Then, after college I would usually do two hours on my own before riding with the local chain-gangs for another couple."
Laverack fell in love with cycling "and its possibilities" after watching Nicole Cooke win Olympic gold in 2008. The all-rounder first raced in 2011, but spent the winter training and preparing for the following year.
Laverack moved to second-cat within a month of racing in 2012, and became a first-cat last summer. He finished third in the prestigious Junior Tour of Wales in August, before British Cycling's Olympic Development Programme endurance coach Matt Winston recommended him to Rapha team manager John Herety.
Laverack joined Rapha in November and has been able to prepare for 2013 without the distraction of studying.
"It's a lot easier now I only have to ride my bike. I don't have to get up so early, but I do slightly miss being so busy all the time."
Having never seen him race prior to the team's training and racing camp in Australia, Herety came away relieved that Laverack's signing was justified. "On the second lap of a Bay Series criterium race, another rider was trying to take his line into a hairpin bend. I saw Ed take one hand off the bars while leaning over to move the other rider out of his line. It was a small detail, but I thought, 'You'll do for me!'"
So pleased is Herety with Laverack's progress that he (Laverack) has been fast-tracked to ride the Tour of Normandy and Boucle de l'Artois stage races in France at the end of March.
This article was first published in Cycling Weekly magazine, February 28 2013.
Thank you for reading 10 articles this month* Join now for unlimited access
Enjoy your first month for just £1 / $1 / €1
*Read 5 free articles per month without a subscription
Join now for unlimited access
Try first month for just £1 / $1 / €1
Nick Bull is an NCTJ qualified journalist who has written for a range of titles, as well as being a freelance writer at Beat Media Group, which provides reports for the PA Media wire which is circulated to the likes of the BBC and Eurosport. His work at Cycling Weekly predominantly dealt with professional cycling, and he now holds a role as PR & Digital Manager at SweetSpot Group, which organises the Tour of Britain.