Endura again, despite Gustavsson's win for UK Youth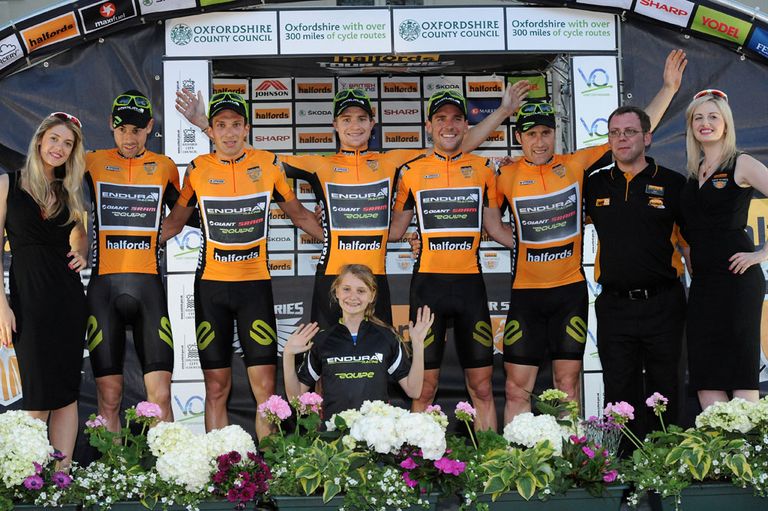 Niklas Gustavsson sprinted to give UK Youth their biggest victory to date in tonight's fourth round of the Halfords Tour Series - but series leaders Endura Racing came away from Redditch with the team prize once again.


Gustavsson was part of a five-man group - containing Boardman Bikes sprints leader Bernie Sulzberger (Raleigh-GAC), Durham winner Kristian House (Rapha-Condor-Sharp), Matt Cronshaw (Node4-Giordana) and Dean Windsor (Endura Racing) - that broke clear halfway through this tough race, and unsurprisingly stayed clear to contest the victory.
With no rider able to jump clear, the Swede gave UK Youth their first individual Tour Series victory, while Windsor and Sulzberger completed the podium. Cronshaw, meanwhile, crashed out of contention with 250m to go.
Speaking afterwards, Gustavsson - who finished second in Colchester last year - said: "It feels very good. I was so close last year and all I wanted was to come back and win.
"Once we got clear, everyone was taking their turns. On the last lap I was in second wheel; I had Windsor and House behind me. On the bottom corner, I reacted before anyone else did and when I went, I gave it everything I could."
Windsor was disappointed not to take the individual win, but stressed the importance of Endura taking the team prize once again.
"The main goal is to win the team award, and the lads have been amazing in
every race. If something happens to one of our riders, someone is their to fill their shoes. We haven't put a foot wrong so far," he told Cycling Weekly.
Double individual round winner in 2012 Scott Thwaites won the bunch kick for fourth, and with Jonny McEvoy in seventh, Endura took the team
victory on the night. UK Youth were just three points behind in second, with Node4-Giordana in third.
It was another tough night for IG-Sigma Sport, who finished eighth, behind CyclePremier-Kovert and Herbalife-LeisureLakesBikes.
Gustvasson and Ned Boulting post-race
Another victory for the dominant Endura Racing squad
Results

Team result, Halfords Tour Series 2012, round four: Redditch

1. Endura Racing 10pts

2. UK Youth 9pts
3. Node4-Giordana 8pts
4. Rapha-Condor-Sharp 7pts
5. Raleigh GAC 6pts
6. CyclePremier-Metaltek 5pts
7. Herbalife-LeisureLakesBikes 4pts
8. IG-Sigma Sport 3pts
9. Hope Factory Racing 2pts
10. Metaltek-Scott 1pt
Individual result, Halfords Tour Series 2012, round four: Redditch

1. Niklas Gustavsson (UK Youth)
2. Dean Windsor (Endura Racing)
3. Bernie Sulzberger (Raleigh-GAC)
4. Kristian House (Rapha-Condor-Sharp)
5. Scott Thwaites (Endura Racing)
6. Chris Opie (UK Youth)
7. Jonny McEvoy (Endura Racing)
8. Rico Rogers (Node4-Giordana)
9. Ed Clancy (Rapha-Condor-Sharp)
10. Yanto Barker (UK Youth)
Team standings after round four

1. Endura Racing 40pts
2. UK Youth 31pts
3. Rapha-Condor-Sharp 30pts
4. Node4-Giordana 29pts
5. Raleigh-GAC 28pts
6. CyclePremier-Kovert 16pts
7. IG-Sigma Sport 15pts
8. Metaltek-Scott 12pts
9. Herbalife-LeisureLakesBikes 9pts
10. Hope Factory Racing 9pts
Boardman Bikes Sprints Competition round winner

1. Bernie Sulzberger (Raleigh-GAC)
Boardman Bikes Sprints Competition standings after round four
1. Bernie Sulzberger (Raleigh-GAC) 44pts
2. Marcel Six (Metaltek-Scott) 32pts
3. Kristian House (Rapha-Condor-Sharp) 30pts
Related links
Halfords Tour Series 2012: Cycling Weekly's coverage index
Halfords Tour Series 2012: Round-by-round preview