Endura sign Dempster, Tiernan-Locke and Windsor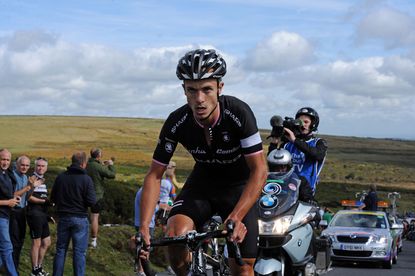 Endura have signed Rapha-Condor-Sharp trio Zak Dempster, Jonathan Tiernan-Locke and Dean Windsor.
After winning the Tour DoonHame and Rutland-Melton CiCLE Classic in an impressive season, Dempster spent the tail-end of the season riding as a stagiaire for HTC-Highroad.
After a good year, Tiernan-Locke especially caught the eye at the Tour of Britain, putting ProTour stars in difficulty on several climbs on the way to sixth overall.


Australians Dempster and Windsor were also linchpins of the Rapha-Condor-Sharp Tour Series-winning team.



Best of British
Throw in new signings Ian Bibby and Jonny McEvoy with the incumbent Endura talent, and it's a clear sign of Anglo-international Endura's ambition to to be the best domestic team in 2012.
As Rapha-Condor-Sharp turn their focus on cultivating young talents, the balance of power is set to shift.
Speaking to Cycling Weekly at this year's Tour of Britain, Endura managing director Jim McFarlane confirmed their ambitions "to be the strongest team in the UK."
"The main thing for the future is that we have neglected the UK race scene this year. We did step it up in Europe this year, and we need to step it up here," he said.
The team is still expected to combine domestic racing with a busy European schedule, as they look to build on a season that saw ten victories, including a Tour of Utah stage for Jack Bauer.
Endura will remain in the sport's third tier for next season.
"We do have aspirations to be a Professional Continental team, but I'm not sure we're quite ready for it - there's obviously budgeting to consider too," McFarlane said.
Endura Racing 2012 line-up
Jack Anderson (Aus)
Alexandre Blain (Fra)
Ian Bibby (GB)
Iker Camano (Spa)
Zak Dempster (Aus)
Rene Mandri (Est)
Jonny McEvoy (GB)
Rob Partridge (GB)
Erick Rowsell (GB)
Jon Tiernan-Locke (GB)
Scott Thwaites (GB)
Paul Voss (Ger)
Alex Wetterhall (Swe)
Ian Wilkinson (GB)
Dean Windsor (Aus)


Related linksJack Bauer powers to Tour of Utah stage winEndura talent Thwaites reflects on first Tour Series


Thank you for reading 20 articles this month* Join now for unlimited access
Enjoy your first month for just £1 / $1 / €1
*Read 5 free articles per month without a subscription
Join now for unlimited access
Try first month for just £1 / $1 / €1