Erick Rowsell gets Tour of Britain call up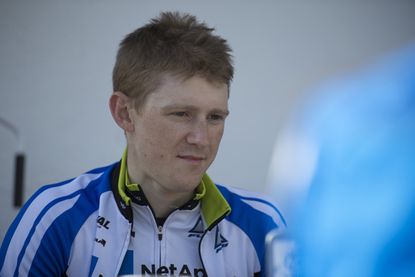 In spite of what you might have read on websites about the NetApp-Endura line-up for the Tour of Britain, the final roster for the German-Anglo team was only released four days before the start this Sunday in Peebles. And the last name to be decided was 23 year old Erick Rowsell, who wasn't sure whether to laugh or cry.
Obviously Rowsell was keen to race in his national Tour, particularly as the final stage, Epsom Racecourse to Guildford on Sunday September 22 starts more or less on his doorstep. With a little over a week to go to the race start, Rowsell had received an email from the team informing him of the line-up for the race and his name wasn't on it. To say he was disappointed would be a monstrous understatement.
"I read the email and was really close to ordering a massive takeaway pizza and cracking open several beers," confessed Rowsell, "my motivation took a bit of a knock, because there's not a lot more on after this and the British riders on the team (Russell Downing, Scott Thwaites, Jonathan McEvoy) were really motivated to ride it - it's our national Tour and the first line-up came with just Scott on the team."
Russell Downing lost all chance of riding the race when he cracked his collarbone at the Grand Prix Overijse last month, though Downing has been fairly vocal in his disappointment with the communication and organisation of the team.
"I know Russ hasn't been happy," admitted Rowsell, "and I can understand it, to be honest I haven't had a race programme since April which has meant that planning training has been hard. If you don't know what you are riding and when you are riding then you can't plan your training, when to work hard or when to taper down or whatever."
Considering that some of the riders on the team were given a nine-day warning they were riding, they've had twice as long as Rowsell, but neither is it anything like enough to properly train and prepare for a race like the Tour of Britain.
Obviously Rowsell and Thwaites will be giving it the proverbial '110' but the reality of racing in a national Tour against WorldTour teams means that the 'local' riders are going to be up against it.
"I got a text from the team on Tuesday night to tell me I was riding - time to start panic training!" laughed Rowsell. All joking aside, when he wasn't down to ride his national Tour, the team had lined up a 250km Alpine Sportive for him to ride instead...
The NetApp-Endura team comprises Slovenian Blaz Jarc (who won the Grand Prix Zottegem recently), Italian Cesere Benedetti (fifth overall last year), Andreas Schillinger, Alex Wetterhall, Rowsell and Thwaites.
Related links
Tour of Britain 2013: Coverage index
Thank you for reading 20 articles this month* Join now for unlimited access
Enjoy your first month for just £1 / $1 / €1
*Read 5 free articles per month without a subscription
Join now for unlimited access
Try first month for just £1 / $1 / €1