Etape du Tour 2012: Albertville to La Toussuire-Les Sybelles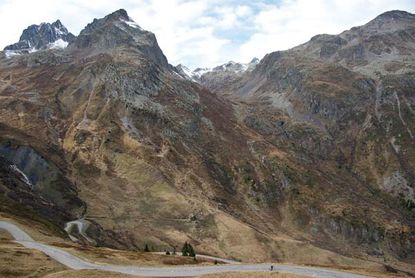 Situated on the Arly river, in the Rhône-Alpes region of south-eastern France, Albertville will once again be under the spotlight come the summer when thousands of cyclists congregate on July 8 to take on what may well be the ride of their lives.
Make sure you're up early to digest a breakfast of croissants and coffee before the 7am start and, no doubt, trip into the red zone that will surely ensue.
It's not uncommon for the early pace of any sportive to be very high, as riders try and find their place in the peloton and settle into their individual rhythm. The first ascent of the day, the Col de la Madeleine, is within spitting distance of the start with little more than 15 kilometres ridden.
There's no time to thin the field so expect some pretty tasty bottlenecks in the early stages of the climb, unless you happen to be one of the few lucky front runners that'll have a clear road.
Stay relaxed - the Madeleine is one of the longest climbs in the Alps at over 28 kilometres in length, with 1,533m of elevation over its northern face. Its gently meandering slopes offer a sense of calm compared to some of the more commercialised ski station ascents, helped all the more by its narrow tree-lined road and beautiful views of the Lauzière massif.
Over the first 12km the gradient rarely pitches above 7.5 per cent, with brief respite at Combelouvière in the form of a 3km descent. The remaining distance undulates from four to 10 per cent, but beware - the final 4k are eight per cent plus and only flatten as you crest the 2,000m peak.
With an impressive array of snowcapped mountains on display you'll be hard pressed to keep your eyes focused on where they should be, as the road dips sharply towards the valley below, and you prepare for an exhilarating white-knuckle 19km descent to La Chambre.
Take any opportunity to hydrate and refuel as no sooner have you reached its foot you'll be pitched straight back up to start of (arguably) the hardest side of the Col de la Croix de Fer.
Coming in so soon after the Madeleine its constantly changing gradient, with ramps of over 10 per cent, never allows you to catch your breath for long, and finding a rhythm is a difficult task (and will surely only be welcomed by anyone looking for the Alpine interval session from hell).
The average gradient of 7.2 per cent ensures it's never going to feel like a ride in the park. There's a brief moment of recovery as you summit the Col du Glandon and swing left for a final 1.5km push to its 2,067m summit where you'll see why this climb is called the 'pass of the iron cross'.
Bragging rights
Conquering your second hors- catégorie climb of the day within 90km accords bragging rights for seasons to come, but you're far from being home and dry. The 14km descent will be over in what will seem like seconds; take care on the hard (narrow) right-hander joining the D80 for the 6km Col du Mollard. Although short, it's the continual wearing-down process, as the summer sun gets ever hotter, that'll take its toll both mentally and physically.
Keep the legs spinning a low gear if possible, as there's more climbing to come. At Les Rieux (halfway up) you'll get 500m to take a deep breath as the gradient eases before it once again returns to between six per cent and 10.5 per cent all the way to the top.
There may be a final feed station at Saint Jean de Maurienne. If you can, refuel before this so that energy is already getting into your system as gravity lets you recover.
There's no time for complacency as you tee up body and mind for a final no-holds-barred 19km effort to La Toussuire-Les Sybelles. By now there is no hiding, all vegetation stripped back to reveal a wide-open road, eager to toast riders as they ascend its constant grade.
It's the unrelenting length that makes La Toussuire a killer, rarely pitching above eight per cent but holding its form all the way to its bitter-sweet symphony at 1,705m.
Related links
Back to Etape du Tour 2012 preview page
Etape du Tour 2012: Act II, Pau to Bagneres de Luchon
Thank you for reading 20 articles this month* Join now for unlimited access
Enjoy your first month for just £1 / $1 / €1
*Read 5 free articles per month without a subscription
Join now for unlimited access
Try first month for just £1 / $1 / €1