Evans Cycles losses deepen to over £5m
Management at the retailer say it performed strongly considering pandemic related supply chain issues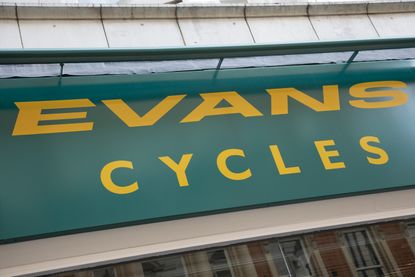 (Image credit: Mike Kemp / Getty)
The pre-tax loss reported by Evans Cycles deepened in 2022, accounts published today reveal.
The firm reported a pre-tax loss of £5.2m ($6.5m) in the year to 25 April 2022, down from £2.7m ($3.4m) the year before.
The group also reported a 50% fall in revenue to £45.3m from £91.6m. However, this was due to a restructuring of the firm following its integration into the Fraser Group business alongside other brands including sports direct.
Retail magnate Mike Ashley's Fraser Group brought Evans in 2018 but according to notes in the 2022 accounts the company only fully integrated its online sales operation during the 2021 financial year.
Evans director Adedotun Adegoke wrote: "Online sales changed at that point from being directly recognised in revenue to the company receiving royalty income from other group entities for online sales under the Company's brand name."
He added: "Management believes the company has performed strongly in the period even with the well publicised supply chain issues with bicycles."
The whole sector has struggled with fluctuating demand and supply during the Covid pandemic. The outbreak in 2020 caused a spike in demand while manufacturing in the far east shut down severely constricting demand.
Then as supply began to catch up the stuttering end to lockdown in Europe and the US dampened demand.
Those issues have continued to reverberate through the sector and have contributed to the struggles of UK and US businesses including the now defunct UK distributor Moore Large.
However, Evans increased its portfolio of physical stores from 48 to 57 between 2021 and 2022.
In its 2022 accounts Evans also reported a dramatic fall in employees from 829 in 2021 to 490 in 2022, though the aggregate remuneration fell similarly from £19.4m to £9.3m.
In Evans' parent company Fraser's accounts for the same period the UK Sports segment, which includes Sports Direct and video gaming chain Game alongside Evans, reported a 34% rise in revenue from £2bn in 2021 to £2.6bn in 2022.
It also went from a loss of £28m to a profit of £183m over the same period.
Thank you for reading 20 articles this month* Join now for unlimited access
Enjoy your first month for just £1 / $1 / €1
*Read 5 free articles per month without a subscription
Join now for unlimited access
Try first month for just £1 / $1 / €1