Global track series with blockbuster £500,000 prize fund per event coming in 2024
The DerbyWheel hopes to boost the global popularity of Keirin racing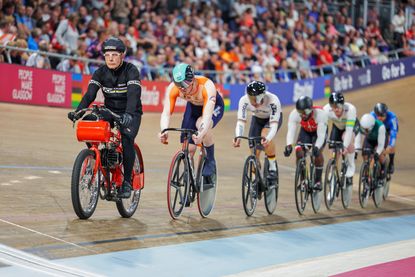 (Image credit: Will Palmer/SWpix)
A new international Keirin racing competition will launch next year, offering a mammoth prize pot of $600,000 (£495,000) for each event.
The DerbyWheel will follow a similar model to pro Keirin racing in Japan, with events expected to be distributed as sports betting content around the world.
The competition is set to begin in April 2024, and will take place in the UK, Australia and Korea. It will initially be held every two weeks, with the hope of becoming a weekly series in 2025.
According to the organiser, the prize fund will vary at each event, but the race manual adds: "Riders will be able to earn considerable prize money across the season."
Top earners will take home around $44,000 (£36,250) per event.
The competition estimates that average earnings will be $10,000 (£8,250), while the minimum will be $3,000 (£2,470).
This is significantly more than prize money at the UCI Track Champions League - considered to be one of the sport's most lucrative competitions - where race winners earn €1,000 (£866) and league winners take home €25,000 (£21,500).
So far, 408 riders from across five continents have signed up for the DerbyWheel, over half of whom are from Asian countries. Riders will compete in classes named General, Excellent and Special, the latter reserved for the best pros.
"I wish DerbyWheel had been around when I was a rider," said Ross Edgar, a former GB track sprinter who is now the competition's director of sport.
"As a former track sprinter and Keirin [Olympic silver] medalist the benefits were clear for the sport, particularly for riders," Edgar added. "In professional track cycling, only a small percentage of riders reach the pinnacle of the sport and compete for Olympic medals.
"DerbyWheel will provide a steady platform for current and developing riders to perform and continue their careers for longer and continue doing what they love."
Cycling Weekly understands that current sprint world champions have shown interest in the competition.
The opportunity to earn a bumper pay day does not, however, come without a few strings.
Prior to launch, registered riders will go through an induction process, where they will gain a DerbyWheel licence and receive their classification.
In addition, although travel, food and accommodation will be covered, riders will have to purchase their own equipment at a cost of $5,100 (£4,200). This includes a standardised bike, a traditional Japenese Keirin helmet, and a state-of-the-art SRM PM9 Pro power meter.
They will also be required to wear coloured race uniform, provided by the competition, and will remain in an isolated "event bubble" after arrival at the velodrome.
Thank you for reading 20 articles this month* Join now for unlimited access
Enjoy your first month for just £1 / $1 / €1
*Read 5 free articles per month without a subscription
Join now for unlimited access
Try first month for just £1 / $1 / €1