Great Weston Ride returns next July 17th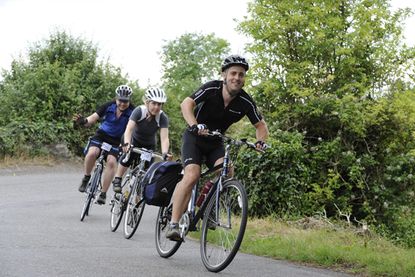 Words: Nick Rearden Photos: sportivephoto
What the organisers are hoping will become an annual 'iconic' ride from Bristol to Weston Super Mare is taking place again on Sunday 17th July 2011 after a successful trial run this summer.
According to event director Andy Cook, "The event is positioned as a destination challenge bike ride for all-comers, along the lines of the famous London to Brighton ride, and the evidence from this year's inaugural ride certainly suggests that it's going to become a 'must do' for many people."
The 56-mile route starts in the western outskirts of Bristol and then takes riders through some stunning countryside as it weaves its way through the Mendips and across the Somerset Levels to its final destination on the seafront in Weston-super-Mare.
"A great deal of thought and effort went into getting the route right, and the overwhelming consensus from this year's riders was that the route was spot-on in terms of stunning scenery and presenting a good level of challenge for riders of all abilities and experience," Cook continued.
Cycling Active completed the ride by tandem and found the level of effort just right for an 11-year-old first-timer at this distance. There was enough variety of terrain to keep it interesting, with lovely villages on the Somerset Levels and a particularly good cake stop.
The kick in the ribs is the climb to the top of the Mendips via Burrington Combe but it's certainly no worse than the equivalent route across Sussex's South Downs and it comes earlier in the ride when you're fresher.
Plus, of course, you cannot beat finishing at the seaside. Dare we say it, but as a veteran of the annual London-Brighton run, we think Weston with its huge grassy park and miniature railway at the finish has the south coast resort beaten.
Thank you for reading 20 articles this month* Join now for unlimited access
Enjoy your first month for just £1 / $1 / €1
*Read 5 free articles per month without a subscription
Join now for unlimited access
Try first month for just £1 / $1 / €1