Greg Lemond Interview: Tour de France 1990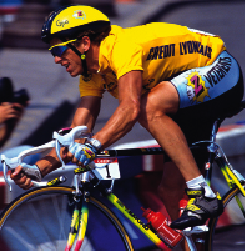 Photos: Graham Watson, Yuzuru Sunada
Interviews: Edward Pickering, Chris Sidwells, Gregor Brown
CS: What's your memory of the 1990 Tour?
GL: 1990 was the most satisfying of my Tour wins. 1989 was exciting, 1986 was hard emotionally, but 1990 was the one I enjoyed the most. It was the first time I'd ridden with a proper team around me — in 1986 my team mostly rode against me and in 1989 my team was very weak.
CS: How was your form coming into the race?
GL: I wasn't on top form, but I was confident. If Fignon had been on form, or if I'd been racing against myself from 1989, it would have been difficult. But it was a strange Tour — it was won on tactics, and I didn't have to be at 100 per cent.
CS: You used a very unusual set of handlebars in the prologue and time trial, and came second.
GL: We did aero tests on them and they were faster, theoretically. But you've still got to apply power to the pedals, and it changed my position too much.
CS: Then you lost 10 minutes the next morning.
GL: Yeah. It was fine, but the only surprise was that Chiappucci was much better than we had expected. We calculated that he would lose that time, so with Pensec in the break, we were happy for it to go. The team time trial threw the race into cat-and-mouse mode — no team wanted to commit. We did think that Pensec was equal to everybody else in the group, so the pressure was off.
CS: Were you joint leaders?
GL: Yeah. No. It was weird — I'd had bad form, so the team lost a little confidence in me early in the season. It was logical for Ronan to be joint leader. The thought process changed — maybe we could win the Tour with Ronan. But I didn't believe that would be the case.
CS: In the time trial, you lost time to Alcala and barely gained anything on Pensec — was that a surprise?
GL: When I finished that TT I wasn't even fatigued. I couldn't get comfortable. It was the last time I used those bars. My elbows were where my thighs should have been, and I was right on the tip of the saddle.
CS: The first two mountain stages, you didn't gain much time on Pensec or Chiappucci.
GL: I wasn't sure of my physical ability, didn't trust my body. I was still thinking of the overall win, but on the first mountain stage, historically, that's not where the difference used to be made. It wasn't hard, plus there was caution on my part. I wasn't sure where Ronan was on the Alpe, and I was still racing conservatively. It was just like 1986 — you can't attack when your team-mate is in yellow. I felt good on the Alpe, but I remembered blowing up there in 1989. I'd actually crashed before the Glandon, hit a pothole, veered off and hit an 80-year-old woman. I thought she was dead, but her husband told me to get going. I'd dislocated my finger — I popped it back in again.
CS: Pensec lost a lot of time in the Villard time trial, but Chiappucci didn't. How did that change your strategy?
GL: That opened the door for me to be aggressive. The day before, Ronan was doing well, and we thought, maybe he can do it. Then, suddenly, the mood switched — I had to start racing. There was a gap to Chiappucci [7-27] and I had to take that time back between then and the finish.
CS: Did you target the St Etienne stage to get time back, or was it opportunism?
GL: The stage was hot, hilly, windy, which I liked. Chiappucci was just following me all day. There had been an attack, his team had chased. I attacked with Breukink, and all I remember is feeling really strong. It was one of those moments you have to make a decision, and I remember Chiappucci was glued to the road.
CS: But it was the stage to Luz-Ardiden that won you the Tour.
GL: Chiappucci attacked early, and I just watched him go. Winning races takes patience and tactics, and to attack you have to have a certain amount of gas in the tank — he'd spend all day in the wind, working. The same thing happened to Hinault in 1986. But I knew it would come to the Tourmalet and Luz-Ardiden. When he went away, it was awfully early. It regrouped at Luz-Ardiden. I remember Parra attacking, going after him, and saw Chiappucci wasn't responding. From then on, my mindset was to take as much time as I could. I felt strong, and I dropped a lot of people that day.
The next day, my team was exhausted. I flatted near the top of the Marie Blanque, Chiappucci saw, and screamed at his team-mates to ride. My car wasn't there, I had no wheel; I was so pissed. We pulled two riders back from the lead group, including Duclos-Lassalle, who sacrificed a chance of a stage win in his home town. Chiappucci's attack was unethical, but I was more angry that the car was not with me.
CS: You'd virtually won the Tour by the end of the Pyrenees. Were you confident for the time trial?
GL: I got so nervous I couldn't sleep for four days. It was only once I'd ridden the time trial, I realised I hadn't thought of winning stages. It was such a strange Tour. We were concentrating on taking time back all the way round. Luz-Ardiden was my highlight — Indurain beat me there, but that's where I could have won a stage.
Thank you for reading 20 articles this month* Join now for unlimited access
Enjoy your first month for just £1 / $1 / €1
*Read 5 free articles per month without a subscription
Join now for unlimited access
Try first month for just £1 / $1 / €1