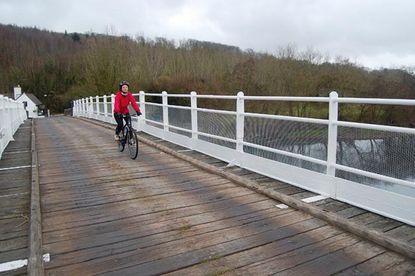 Words Laura Laker | Photos Nick Davies
24 miles of peaks, valleys, motte and baileys, big oak trees and drinkeries
Distance: 24 miles
Big hills: 0
Challenge: 1/5
Pub stops: Two
Setting out on an overcast morning my friend Nick and I wonder if the weather is going to hold. Arriving in Hay-on -Wye late on Friday night, we wake on Saturday morning to snow on the nearby Black Mountains. The sun, after making a glorious appearance first thing, is swathed in dark cloud by mid-morning. Despite a blue tinge lending the fields a hypothermic air, it is surprisingly balmy abroad and we feel prepared for anything.
Hay-on-Wye is only 100m above sea level, yet this morning we appear to be inside a cloud. From our guesthouse we seek out Drover Cycles, where proprietor Anna Heywood with an infectious smile loans us brand new Raleigh Strada hybrid bikes for their very first outing.
We decide to do the route in reverse, anti-clockwise, getting the hillier part out of the way before our planned lunch in Eardisley. Climbing east out of Hay on a quiet B-road, the horizon a blur in cloud and dark skies looming dramatically overhead, I think: this is the kind of day you'd be tempted to hide indoors.
We, though, are glad to be out; it feels like our secret as we venture into the mist, and out of Wales over the border into Herefordshire. We soon discover, however, that we are not the only cyclists out; a few small clusters or couples on bikes exchange our greetings as we pass.
Passing pretty stone cottages the road hugs the curve of the hill, gentle inclines leading us on for two miles, while tall trees frame the view of the Wye to the north. This is gentle country, though it has much to say for itself: a multitude of castles nestle in the hills, out of sight. We pass the evocatively-named Mouse Castle motte and bailey, only evident by its name on the map and a little starred marking in a pictorial forest. Similarly curious, Newton Tump, another motte and bailey, lies somewhere ahead.
The area seems bedecked with ancient fortifications, a product of its long straddling the border between England and Wales. After two and a half miles our road swoops down towards the River Wye, a green-brown misty landscape stretching out ahead of us, while daffodils flower brightly in the verge.
Into the valleys
One little bridge over a dismantled railway creates a horizon along the next flat before we begin a series of gentle ascents past hamlets with Welsh names like Pen-Y-Park, and tempting pubs as a light drizzle garnishes the air. Far from disheartened, I feel like a plant receiving a refreshing spritz.
Tudoresque buildings of red brick and black beam emerge as we wend amid pretty valleys, views of far fields keeping us company as rooks converse in passing boughs. Encountering some slightly steeper climbs Nick is clearly enjoying himself as he disappears into the distance, legs pumping. I catch him up again at the next junction as he slows to savour the views.
We turn left at the Red Lion Hotel, an arresting red brick coaching inn dating to the 17th century, where, according to its proprietors, a circuit judge once sat. We join a singletrack road past a small orchard, and a stone mansion at Bredwardine, nestled alongside the Wye, with hills rising up on both sides. We cross a long brick bridge spanning the Wye, also hailing from the mid-1700s, stopping to admire river and structure before climbing past the entrance to Brobury House and Gardens and signage for yet another motte and bailey.
Following the river, we briefly join a main road before turning right onto flatter terrain. After a quick right-left along the main road — with a sign warning "watch out, cats about" — we turn left, climbing a teensy singletrack road alongside orchards, on towards Almeley. Its name derives from Elm Wood, and although a small village, in medieval times Almeley boasted its own castle. Now only earthworks remain. Our route describes a U-shape past curiously titled Coke's Yeld Dingle and just as I'm thinking of a good honest medieval feast we emerge in the centre of Eardisley, the Tram Inn beckoning us from across the junction.
It is apparent upon nearing the pretty Tudor building that we aren't the only cyclists here today. In fact, our fellow cyclists appear to all be riding very beautiful vintage steeds. Peering closer at the tangle of bikes as we wonder how to safely secure ours, sans locks, we discover steel framed racers of such a vintage I have never seen. They look, frankly, like museum pieces. Ogling them for a while we almost forget it is lunchtime. Well, I do, anyway. Inside we find exactly the scene a cyclist would want on a cool, drizzly afternoon: a cosy wood burner in full flame in a welcoming little bar with the gentle buzz of conversation in the air, and the promise of delicious grub. Apparently The Tram Inn won a Good Pub Guide prize this year for 'best outdoor loo'.
Bike chatter
On the way to the indoor facilities I spy what can only be the people responsible for the bikes outside. I compliment them on their steeds, ending up in conversation with a man who claims to have cycled with Olympic medallist Tommy Godwin back in the 1940s. He takes me to the bikes outside, pointing to his favourite, the Hetchings, though he proves rather shy about himself and won't be photographed. He and the rest of the group, it turns out, are members of the Veteran Cycling Club.
Sitting alongside our table warming her hands at the fireplace, Moira, one of their number riding a Dawes Equinox, tells me this generation of older riders has so much knowledge about bikes and their history and it will be a real loss when they are gone. Perhaps in her fifties, she is one of the younger members.
Just that moment the group makes for the door, ready for the second half of their 10 or 12-mile ride. Many are septua- or octogenarians, including a man who introduces himself as David Lovegrove, aged 80. Leading me outside again David shows me what turns out to be his 1937 Hetchings bike which, he tells me, in an age where bikes weren't allowed to advertise their brands on racetracks, was made identifiable through a rather elegantly curved chainstay. He says: "...so if they appeared in the papers people would know: 'that is a Hetchings'". Another man introduces himself as Robin Walker, his 1949 Maclean a favourite of mine with its black and yellow transfers, its paintwork in immaculate condition thanks to having recently been lovingly restored.
By the time I return, my vegetarian tart and Nick's beef burger are waiting. The food is delicious and we sip coffee afterwards and sample some ale, soaking in the atmosphere. Everyone who comes in seems to say hello to everyone else. Outside again, after a detour to admire some of the town's stunning Tudor buildings, we're on the right track for our return leg.
Less than a mile later a sign on the road reading "Great Oak" points up a turning on the right. There, the largest oak I've ever seen straddles a plot beside some cottages, its great, squat, gnarly trunk holding aloft magnificent branches against the sky. This is the Eardisley Oak, thought to be 600-800 years old, with a 9m girth and enough room inside its trunk for five people.
Ditching the bikes we wander around it a bit before discovering an archway in the back to a cavern inside. Clambering in is a little like entering a cathedral; its roominess is awe-inspiring, the crumbling wood smelling as much like an old building as an ancient tree. We admire it in the growing cool before pointing our wheels for Hay.
Weaving the singletrack lanes we eventually meet a familiar wide main road leading along the Wye. Just before the turning for the toll bridge a group of young men on fancy racing bikes overtake us. When we reach the bridge, however, the man who staffs the quaint wooden crossing tells us the racers already paid our fare. Albeit only 10p per bike this was a perfect illustration of people's kindness here.
The Grade II listed Whitney-on-Wye toll bridge, built in 1797, was the fourth erected on this site after the previous three washed away between 1774-1785. The Wye river was known for its ferocity in those days, with tales of whole buildings being swept away and a church ending up on a different side of the Wye overnight. Today it is hard to believe it could be so. The final climb to Hay is a satisfying one, with both of us keen to be back in the warm. We share a strong desire to return to the area as soon as we can.
Stop!
Pubs and grub
The Red Lion Hotel, Bredwardine, Herefordshire, HR3 6BU, 01981 500303, www.redlion-hotel.com
Rehydrate in the relaxing, old-world, wood-panelled bar or sit down for a lunch of local produce, including local game and fish. This historic 17th century coaching inn offers B&B accommodation alongside coarse fishing, salmon fishing (free to residents mid-March to mid-June), golf and walking.
The Tram Inn, Church Rd, Eardisley, Herefordshire, HR3 6PG, 01544 327251, http://thetraminn.co.uk
Affable, family-friendly pub with a great atmosphere, local ales and tasty food. Features in the Good Beer Guide and the Good Pub Guide 2013, as well as being CAMRA's pub of the season last summer.
Places of interest
Brobury House and Gardens, Brobury, Herefordshire, HR3 6BS, 01981 500229, www.broburyhouse.co.uk
The stunning gardens dating back to the 1880s are open year-round, with accommodation on offer too.
Bike hire
Drover Cycles, Forest Road, Hay-on-Wye, Powys, HR3 5EH, 01497 821134, www.drovercycles.co.uk
Friendly, knowledgeable service, with mountain, road and hybrid bike hire, route maps and an excellent selection of bike clobber, bikes and kit to boot. They also offer local guides to navigate the area's many on-and off-road trails and routes.
Stay
Westview Guest House, Llowes, Hay-on-Wye, Powys, HR3 5JD, 01497 842935, www.westviewguesthouse.com
A home from home with a warm welcome, a breakfast of local produce cooked in front of your eyes and two tabby and white cats to stroke. Electric cars are available for those booking two nights or more; call for availability.
Road book
From Drover Cycles, turn right along Forest Road, right onto Church Street, and then right again onto Oxford Road, passing the castle on your left.
Passing Cusop Dingle, Oxford Road becomes Hardwicke Road once you're out of Hay (B4348), and the B4352 after five miles. At Bredwardine, about eight miles in, turn left opposite the Red Lion Hotel at the brow of an incline, riding downhill to cross the River Wye via the long 17th century brick bridge. With Brobury House on your right and the Wye on your left, turn left at the end of the road, following the busier A438. Take the first right (ignoring tiny road crossing a stone bridge) towards Kinnersley and Sturt's Nature reserve, passing a red brick pile on your right. After Kinnersley turn right at the end onto the rather busy A4112, turning left uphill after you've passed the 'cats crossing' signs.
At Almeley turn left at the church and then left again at the crossroads, onto Eardisley Road. At Eardisley you'll end up opposite the Tram Inn. Either stop for refreshments or turn right and then left onto Woodseaves Road. After three miles you'll see Great Oak on your right. Stop and admire. Meeting the A438 at the bottom of the hill, turn right, following the Wye, and take the first left for Whitney Bridge (10p toll). Follow the B4350 back into Hay, turning left after Oxford Road onto Forest Road.
Thank you for reading 20 articles this month* Join now for unlimited access
Enjoy your first month for just £1 / $1 / €1
*Read 5 free articles per month without a subscription
Join now for unlimited access
Try first month for just £1 / $1 / €1