Hell of Ashdown rider hits 'part of dead cow'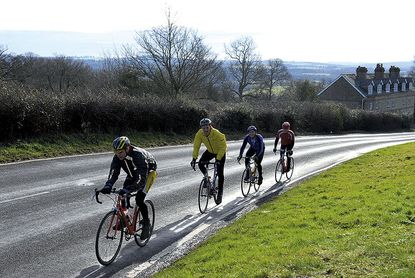 "Hell ain't a bad place to be" famously sang AC/DC, but unfortunately that wasn't the case for one poor soul at last weekend's Hell of the Ashdown Challenge.
While most riders suffered only aching limbs and weary bodies, one rider broke his collarbone after possibly the most gruesome accident we've ever heard of - he hit part of a cow carcase.
Organiser Bryan Stout speculated that the obstruction may have been the result of someone trying to sabotage the event.
"This hazard must have suddenly appeared on the route - I can't imagine hundreds of cyclists steering around this without someone dragging it off the road," he said. "From our people at the scene it appears to them to have been a rib cage of a cow.
"It's total mystery as to how this appeared on the route. I'm still trying to gather information and we will give a £500 reward to anyone who can give information which will lead to a prosecution."
So if anybody saw which unholy halfwit put the bovine danger on the road please contact Bryan at bryan.stout@ntlworld.com.
Thank you for reading 10 articles this month* Join now for unlimited access
Enjoy your first month for just £1 / $1 / €1
*Read 5 free articles per month without a subscription
Join now for unlimited access
Try first month for just £1 / $1 / €1