Hillingdon Circuit celebrates opening of stylish clubhouse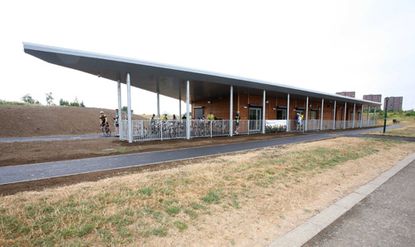 26th April 2010 Words: Keith Bingham
It's been a long wait - over a decade - but the long-suffering riders at the Hillingdon Cycle Circuit in West London have finally got a clubhouse to be proud of.
The £715,000 timber-clad building was officially opened by the Mayor of Hillingdon, Councillor David Yarrow yesterday morning, to applause from riders - lured from their training on the 0.93-mile circuit by the offer of free cakes, coffee - and officials.
It's state-of-the-art - Dyson Dryers in the toilets.
But most important of all, they have now a decent place to display the portrait of their inspirational hero, triple Olympic champion Bradley Wiggins who raced here as a schoolboy.
"This - the name's quite a mouthful - this Hillingdon-cycle-circuit-clubhouse-in-the-Minet-Country-Park"... said the Mayor after due pause to study his notes..."is another example of the council's continuing commitment to develop the sporting and recreational facilities available to our residents."
"The clubhouse has been developed over the last 10 to 12 months and I would like to thank all parties involved in the delivery of the project in a such a short space of time.
"It includes state of the art facilities for indoor coaching, instruction at all levels, with specialised classrooms in addition to the main hall which provides the social area essential for all sports to encourage friendship likely to last a lifetime. A cycling club house has been a long awaited facility for the cycling community.
"It gives me great pleasure to declare the Clubhouse officially open..."
And he tugged the cord to reveal the wall plaque recording a proud moment in the Hillingdon circuit's development, this cycling oasis in a congested part of London.
Riders in the popular Hillingdon Winter Series
The man wearing the biggest smile was Stuart Benstead, chair of the Hillingdon Users Group.
"Now we can invite local schools to become involved here," said Benstead. "Before, if the weather was bad, there was nowhere to go. Now, with this fabulous facility, we can take them in to the class rooms for coaching."
Thank you for reading 20 articles this month* Join now for unlimited access
Enjoy your first month for just £1 / $1 / €1
*Read 5 free articles per month without a subscription
Join now for unlimited access
Try first month for just £1 / $1 / €1