Home testing: The best way to measure your fitness levels
Physiological testing is no longer the preserve of the sports science lab. Coach Tom Bell explains how to measure your key benchmarks from the (dis)comfort of your home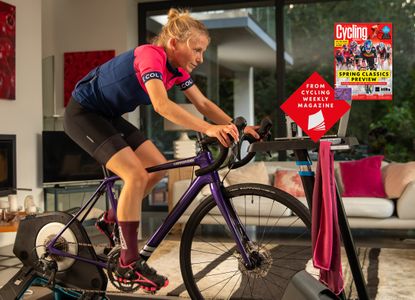 (Image credit: Future / Daniel Gould)
Over the last few weeks, many pro racers and their coaches have been busy testing in the lab. This early-season testing is a mainstay at the top level of the sport. It helps coaches understand their athletes' fitness profiles and to set training intensity targets and priorities.
But fitness testing isn't just for pros. It can be helpful for cyclists of all abilities – and in this feature we will explore the home-based testing protocols that you can undertake for a fraction of the cost of lab testing.
>>>>Subscribe to Cycling Weekly magazine for more expert fitness advice
As a coach, I often have athletes use home-based testing because it can be performed more regularly, and also provides important data on actual performance as opposed to physiological metrics such as VO2max, which don't always predict real-world performance very accurately.
In this feature, we'll review three home-based testing approaches that require only a power meter or smart trainer and a device to record the data (e.g. laptop or cycling computer).
We'll follow two hypothetical athletes through this article to explore how well the different testing protocols work for different individuals, assessing the pros and cons of the different methods. Both datasets are from real athletes, albeit with names for confidentiality.
Our first athlete, Jane, describes herself as a "diesel engine". She is able to maintain high power in steadier events (4.4W/kg for over an hour), but struggles to respond to breakaways. Our second athlete, Sarah, is a more explosive rider and excels in races with many surges and attacks. She has a slightly lower one-hour power of 4.3W/kg. Both are preparing for punchy criterium-style races.
The 20-minute FTP test
This protocol (see box) is intended to estimate Functional Threshold Power (FTP), which is the maximum sustainable power over 40-60 minutes. This closely corresponds to the maximum lactate steady state (MLSS), which is a key marker of endurance cycling fitness often tested in the lab.
A key benefit of this protocol is its simplicity. It's easy to estimate FTP and see how this has changed in response to training. Training intensity zones can also be calculated based on percentages of FTP, such Dr Andrew Coggan's intensity zones (see box).
A limitation of this test is that it only assesses one aspect of your fitness profile. Looking at the data from Jane and Sarah, below, we can say for sure that Sarah seems to have a slightly higher FTP.
However, the testing doesn't tell us anything about how these athletes perform over shorter efforts, or what their endurance abilities might be like over several hours. On the basis of the FTP test alone, we can't confidently say, for either athlete, what they should focus on in training.
To read the full feature grab a copy of the March 17 edition of Cycling Weekly, on sale in shops an online now. You can also subscribe to Cycling Weekly, get more great fitness content each week and save on the cover price.
Thank you for reading 20 articles this month* Join now for unlimited access
Enjoy your first month for just £1 / $1 / €1
*Read 5 free articles per month without a subscription
Join now for unlimited access
Try first month for just £1 / $1 / €1