Crash at Vuelta a Extremadura after spectator moves into road
Spectator was attempting to film the action at Spanish race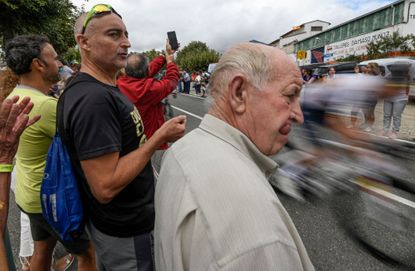 (Image credit: Getty Images)
A spectator at the Vuelta a Extremadura caused a rider to suffer a crash last Thursday, after they struck the cyclist while attempting to film the action.
According to the Daily Mirror, the five-day event, which is hosted in south western Spain annually, saw a cyclist knocked off his bike by a fan who got too close to the onrushing peloton near the end of stage three.

The female spectator was on the side of the road, but had her arm outstretched into the as she recorded the action.
A rider then struck her arm as the race passed, sending them both crashing to the floor.

"We want to make a call to the responsibility of the public so that accidents like the one experienced at the end of today's stage are not repeated," organisers said in an official statement released after the incident.

Owen Lightfoot, a cyclist participating in the event, called the crash "very upsetting".

"Went for the bunch sprint today, was in near perfect position when the rider ahead of me was taken out by a spectator filming with a phone," he said. "It's important to keep your distance and not invade the road at the pace of the race."

"Having spectators is great and makes the racing much more enjoyable, the sport wouldn't be what it is without them. But I don't know why people feel the need to film and put their phone out in front of riders going at 60km/h when the race is already being filmed and televised already, endangering riders and themselves," he added.

"We put in a lot of hours and sacrifice a lot for an opportunity to get results, just to be taken out this way is very upsetting. I am very lucky to only have some road rash as it could have been much worse."
Luis Carlos Chia won stage three, which finished in Valencia de Alcantara.

The incident brought back memories of the crash at the 2021 Tour de France, when a woman holding a sign took out Tony Martin, which led to a mass pile up in one of the race's early stages.

The female spectator involved narrowly avoided a jail sentence in relation to the huge crash.
Thank you for reading 10 articles this month* Join now for unlimited access
Enjoy your first month for just £1 / $1 / €1
*Read 5 free articles per month without a subscription
Join now for unlimited access
Try first month for just £1 / $1 / €1
Tom is a News and Features Writer at Cycling Weekly, and previously worked in communications at Oxford Brookes University. Alongside his day job, prior to starting with the team, he wrote a variety of different pieces as a contributor to a cycling website, Casquettes and Bidons, which included interviews with up and coming British riders.