How high can you climb in a month? Your CW5000 July challenges
Another climbing challenge and a ride to the seaside. Two more challenges to motivate and help you toward the 5,000 mile target in 2021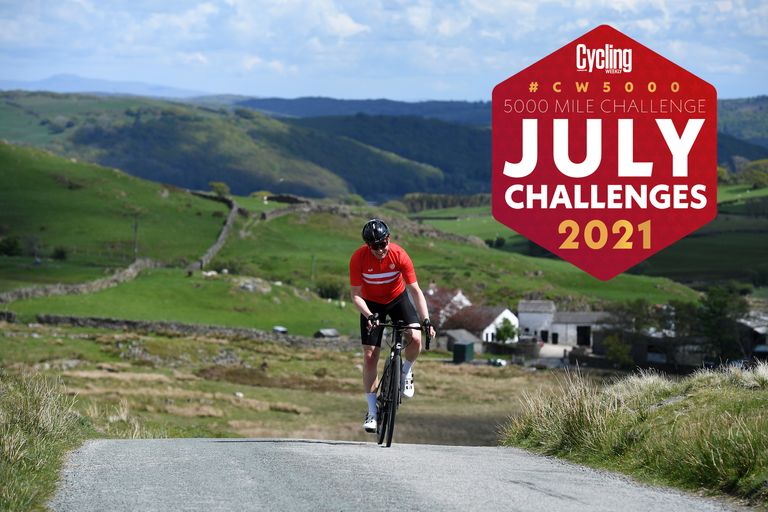 (Image credit: Future)
We've now tipped over the half-way point of this year's challenge so hopefully you'll be past the 2,500 mile point by now. Or getting close to it at least.
But regardless of your mileage, you can always attempt our monthly challenges just for fun. As ever they're designed to help mix up your riding, try something new and keep you motivated. Sometimes it's the sunny, summer months when there are so many other distractions that we can struggle to keep riding.
>>>> Find out who has completed the distance already this year
Send details of how you took on the two challenges to cycling@futurenet.com (opens in new tab) letting us know where you went and why so we can include your story in our monthly round up. Best of luck!
1. Ride to the coast
It's a challenge we've set before and one that always results in some great pictures being sent in. A coastal ride is a staple for many UK clubs that live a little inland as there's something about riding to a point from which you can ride no further that seems to inspire us.
If you're lucky enough to live by the coast, why not try and find a new point on the coast you've never been to before. For those in north America who live hundreds, or even thousands, of miles inland we'll accept a ride to a large body of water instead.
2. How high can you climb in a month?
Rather than give you a set distance to gain in a ride, in a week or month, we want to see how far you can climb. There's no upper or lower limit, just the motivation of seeing how high you can get. Can you reach the peak of Ben Nevis at 4,412ft? Or perhaps you can scale Mont Blanc at 15,777ft.
If you live in a hilly area, or fancy yourself as a climber, then you could always attempt to Everest in a month. That's 29,032ft of climbing. Get beyond that and you'll be reaching the earth's Troposphere that extends between eight and 14.5km.
Anyone can sign up to the CW5000 challenge and include all their miles ridden from January 1, 2021. You'll get the monthly challenges sent to you and get access to the private Facebook group to share your riding with others taking on the challenge.
Thank you for reading 5 articles this month* Join now for unlimited access
Enjoy your first month for just £1 / $1 / €1
*Read 5 free articles per month without a subscription
Join now for unlimited access
Try first month for just £1 / $1 / €1
Editor of Cycling Weekly magazine, Simon has been working at the title since 2001. He fell in love with cycling when channel surfing in 1989 and happening across the greatest ever edition of the Tour de France. He's been a Greg LeMond fan ever since. He started racing in 1995 when moving to university in North Wales gave him more time to train and some amazing roads to train on. He raced domestically for several years, riding everything from Surrey leagues to time trials, track and even a few Premier Calendars. In 2000 he spent one season racing in Belgium with the Kingsnorth International Wheelers.
Since working for Cycling Weekly he has written product reviews, fitness features, pro interviews, race coverage and news. He has covered the Tour de France more times than he can remember along with two Olympic Games and many other international and UK domestic races. He can still be seen at his club's evening races through the summer but he still hasn't completed the CW5000 challenge!
SIMON IS CURRENTLY RIDING
Road bike: Pinarello K8S with Shimano Dura Ace
TT bike: Specialized Venge road bike with FFWD wheels and Easton Attack TT bars
Gravel bike: N/A
Training bike: Rourke custom hand made with Reynolds 853 steel