How to winterise your bike
Top tips for getting your bike setup and protected in winter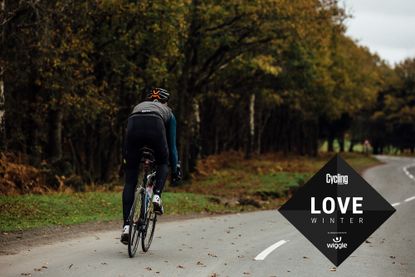 As Aristotle said, to appreciate the beauty of a snowflake it is necessary to cycle out in the cold.
OK, so he might have said "stand" instead of "cycle" but rather than getting bogged down in details, let's get down to practicalities.
If you want to cycle through the winter you probably won't manage it on same set-up you've been running through summer. So here are our top tips for winterising your bike.
1. Hang up your carbon wheels
Winter is not the time to be showing off on your expensive, lightweight carbon hoops. Save them for best and let a cheaper but sturdy aluminium set with plenty of spokes do the donkeywork.
If you're on rim brakes, the Shimano RS100 wheels are 10 and 11-speed compatible, have 20 front/24 rear stainless steel spokes, brass nipples, weigh a not-too-bad 1,897g, have cup-and-cone bearings that are easy to service, and have a list price of just £119.95.
If you're on discs, the Prime Stagiare wheelset is even cheaper at £104.99, is equally bombproof and even has a tubeless-ready rim.
2. Fit mudguards
Mudguards are essential for winter riding, protecting you, your bike and your ride mates from road spray.
A dedicated winter bike will have mudguard 'eyes' on the fork and dropouts or seatstays that allow you to attach fixed mudguards. These are the best type – in particular the classic SKS Bluemels Chromoplastic model, which is flexible yet held rigid via 3mm steel stays, easily adjustable so it will never rub, and virtually unbreakable.
If your bike doesn't have mudguard eyes there are still plenty of options, including the SKS Raceblade and Crud Roadracer, which may not protect your frame quite as well, but are infinitely better than nothing.
If you're doing a lot of group riding, think about fitting a mudflap. Even with a full-length mudguard, spray flicks up into the face of the rider behind. You can buy mud flaps cheaply or cut your own out of a plastic bottle. Drill a hole near the bottom of the mudguard and attach it with a small nut and bolt, or rivet it on. They'll thank you for it.
3. Run all-season tyres
A popular all-season tyre is the Continental Grand Prix 4 Season, which uses the same casing as the brand's flagship Grand Prix 5000, but under the tread has a breaker belt made from Vectran, a very strong, highly tear-resistant yet very light material. Other brands use Kevlar, polyamide and reinforced nylon for the same purpose.
A good-quality set of winter tyres is a good investment – the best ones are reliable yet still lightweight and fast-rolling. Get the biggest ones your frame will allow.
4. Go tubeless
Many rims are tubeless ready – if yours are, why not give tubeless a go? It has benefits for summer riding and racing – lower rolling resistance, self-sealing, less risk of pinch flats – and those benefits of course also apply for winter riding. Not having to stop for a puncture is particularly appealing, as is the ability to run them at a lower pressure for increased grip and comfort.
5. Use daytime running lights
Certainly the onus is on drivers to look properly, but there are now very bright lights that weigh next to nothing that will ensure you're seen from a long way off. The latest Exposure TraceR lights have what the brand calls Daybright modes, specifically to be used as daytime running lights. Weighing just 35g each you won't notice them, but other road users definitely will.
6. Clean your bike immediately
It's the last thing you want to do when you come in from a long ride on filthy roads, but cleaning your bike ought to be the first thing you do once you've recovered. Rust can form on the chain the moment it starts to dry, so get a bucket of warm soapy water, sponge all the mud off, working from the top down, rinse and then re-lube the exposed moving parts. Instead of washing-up liquid you could use Muc-Off's Bike Cleaner Concentrate, which contains a powerful degreaser.
7. Use a wet lube
A heavier wet chain lube is a good idea for winter – the longer it takes to wear off, obviously the more life you're going to get out of your chain, chainrings and cassette. Finish Line Cross Country Wet Lube is excellent and something of a classic, while Muc-Off's Hydrodynamic Chain Lube is also a good bet.
And finally… wrap up warm. See our winter checklist for tips on what to wear. Happy winter riding!
Thank you for reading 20 articles this month* Join now for unlimited access
Enjoy your first month for just £1 / $1 / €1
*Read 5 free articles per month without a subscription
Join now for unlimited access
Try first month for just £1 / $1 / €1