I raced in -20° weather for nearly 5 hours and it was an experience not to be missed
"In my decade of international racing, I amassed 11 world championship titles and three Olympic medals yet fat biking is some of the hardest riding I've ever done" - Paralympian Meg Fisher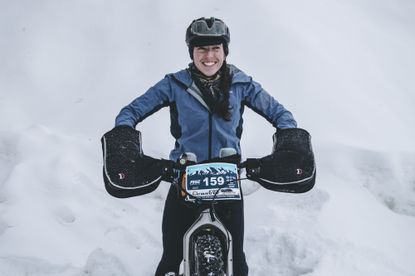 (Image credit: Gretchen Powers )
There might be a lot of opinions on fat biking — the monster trucks of cycling— out there but I, for one, love it. It's a chance to explore familiar or new terrain during the traditional "off season" at a very different pace. In my decade of international racing, I amassed 11 world championship titles and three Olympic medals yet fat biking is some of the hardest riding I've ever done.
The Fat Pursuit, a 60k or 200k fat bike, ski or foot race that takes place on the snow-covered roads and trails outside Yellowstone National Park, celebrated its 10th anniversary earlier this month. And I got to be part of it.
This physically and mentally grueling endurance endeavor is the brainchild of Jay Petervary, a living legend in the ultracycling and bikepacking community, and a qualifier for the Iditarod Trail Invitational. Petervary's resume includes wins at the Silk Road Mountain Race, Tour Divide, Unbound XL and the Iditarod Trail Invitational. His own event brings together folks from all over the country who are looking to challenge themselves in Petervary's backyard, Island Park, Idaho, which is little town just west of West Yellowstone sitting at about 6,300' elevation.
As a rule, any sport or race is as hard as we choose to make it. Of course, there are exceptions to every rule. Winter racing, no matter the mode of travel, is one of those exceptions: it's hard no matter what.
There are countless variables that impact the degree of suffering a person might experience out on course. Weather is perhaps the most unpredictable variable. For folks tackling the 200k distance, they must prepare to be out in the high elevation elements for 20 to 60 hours. That means they must have the skills, tools and equipment with them to camp, boil water and withstand temperatures that can dip below -22° F with or without blowing snow. Cyclists load their bikes with winter survival gear in a variety of ways while skiers and runners tend to drag equipment-laden sleds behind them.
At this year's event. 59 people tested themselves on the 200k distance: eight female cyclists, two female runners, 43 male cyclists and six male runners. Spoiler alert: Not everyone finished.
The fastest finisher, Tyson Flaharty, completed the 200K course by bike in 20 hours and 44min. He had to ride hard all day and night without sleeping to stay ahead of pro cyclists Alex Howes and Seth Harney. The women's category came down to a bike throw with Rebecca "the Queen of Pain" Rusch coming out ahead with a time of 24 hours and 59min. Rusch didn't sleep either.
Of the eight people who attempted the 200k race on foot only five finished. The fastest male runner covered the course in 41 hours and 28min and the only female finisher triumphantly crossed the finish line in 60 hours flat. With cutoff times to contend with, the runners did not have the luxury of resting much either.
About twice as many people signed up for the 60k race across the bike, ski and run disciplines. Despite being a shorter distance, the 60k is no less strenuous.
The trail conditions are dynamic, to say the least, and it is unreasonable to assume that the course will have much, if any, hardpack or corduroy groomed snow. The trails are shared by snowmachine users, skiers, runners and bikers alike who all leave their marks in the snow. I liken fat biking to trials riding or basically balancing on skinny rails all day. The narrow tracks of firmer snow laid down by riders ahead of you are faster to ride along than the softer snow. To stay in the tracks takes unwavering focus.
I chose to race the 60k fat bike race this year. While I have the utmost respect for those that undertake the 200k distance, it's just not my jam. I lost my left foot 20 years ago in a bad car accident and the hike-a-bike sections on the 200k course are even less fun with a prosthetic leg. When biking, I use a specially designed prosthetic leg that has a cleat bolted to foot piece that's about the size of a deck of cards. My biking leg is perfect for spring, summer, and fall conditions. In the winter it's perfect for punching through the top layer of snow and sinking deep.
Like any off-road race, the pre-race talk was all about tire choice as riders deliberated tire width and pressures. I opted for a four-inch wide tubeless tire setup front and rear, and adjusted the tire pressure as needed throughout the day. In the morning, when the air and snow were colder, I ran a slightly firmer tire pressure. As the day warmed up and the snow got more churned up by trail users, I needed a wider patch on the snow to float across it.
Staying hydrated and fueled is challenging for all racers. Skiers and runners keep their hands full and busy with their poles. Riders have an equally hard time because it's damn near impossible to take hands off the bars in soft snow to quickly grab a bottle or a snack. When it's cold, our bodies give us fewer signals to drink fluids yet racers are constantly losing fluids simply breathing the cold high-altitude air and sweating in winter clothing. Given the time it takes to cover each race distance, fueling and hydration strategies are crucial. Racers definitely welcomed the toasted peanut butter and jelly sandwiches offered at aid station #1 and the warm soup later at the second aid station. Personally, I relied on the Gu products I carried and found I only needed to stop to fill water bottles. On the subject of water bottles: there is an art to carrying water in the winter without bottles, nozzles or hydration tubes freezing solid. I rely on insulated bottles which I fill with boiling water before the start and carry them upside down.
I finished just off the podium, in fourth place, with a time of 4 hours and 46 minutes — a grueling 12.5kph or 7.8 mph. But I'm happy with my time and I'm already scheming up ways to make the podium next year.
The appeal of Fat Pursuit is that it's an experience more than it is a race. Perhaps those words are used too often to describe races or maybe they aren't used enough. At the finish line folks mull around for hours and hours around a fire pit to keep warm and cheer on finishers. The later finishers get more cheers and congratulations than the winners.
At noon, on Sunday, most everyone still tired and ragged from their own races gathers for a toast to celebrate each other's tenacity, strength and perseverance.
This year, the tenth anniversary, Petervary choked up as he tried to put into words what Fat Pursuit is. Fundamentally, it's an experience not to be missed.
Thank you for reading 20 articles this month* Join now for unlimited access
Enjoy your first month for just £1 / $1 / €1
*Read 5 free articles per month without a subscription
Join now for unlimited access
Try first month for just £1 / $1 / €1