Iconic Manchester cycle retailer closes down after over 60 years in business
Harry Hall Cycles opened in 1955, shop became one of the first city centre cycle retailers in the UK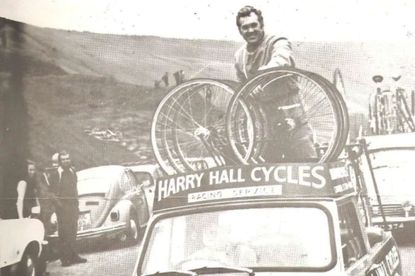 (Image credit: Harry Hall Cycles)
Manchester's Harry Hall Cycles, one of the oldest and most well known cycle retailers in the UK, has closed down.
In a short message shared on the shop's website, owner Graham Hall thanked the business's customers and said he had many happy memories of working in the city.

"It saddens me to announce that after 67 years the shop is now closed," Hall said. "We've many fond memories of working with the cyclists of Manchester (& around). We've met many nice people and been lucky to work in an industry that was also 'our past time'.
"We thank you for your custom, support and friendship over the years. Wishing you many more happy hours of cycling."

He continued: "Harry Hall's was a family owned & run business. We catered for most aspects of cycling; commuters, children and enthusiasts alike. Our aim was to provide good quality kit with a friendly service. We were established in 1955 by my father Harry.
"I have been lucky to have worked with some great people who've helped the shop immensely on its journey."
According to a report from Manchester Evening News, the business was also one of the oldest in Manchester.

The shop was first opened on Hyde Road. Several years later the business moved to Cathedral Street in the, becoming one of the first city center cycle shops in the country in the process.

Harry Hall passed away aged 78 in 2007. During his long career he built a reputation as one of the best bike mechanics in the UK.

In 1967 he was Tom Simpson's mechanic when the British cycling legend collapsed and died at the summit of Mont Ventoux during the Tour de France.

"He was weaving across the road then fell against a bank. I undid his straps and said: 'It's finished for you Tom.'
"But he said, 'No, I must go on Harry. Do my straps.' So I did them up, and I pushed him on, then he fell again," Hall said in 1992 when reflecting on that fateful day in 1967.

In the mid-1980s Harry Hall Cycles moved into the basement of Manchester's Corn Exchange development. It was evacuated in 1996 when an IRA bomb destroyed a large part of the shopping district.

Harry's son Graham took over the business in 1985. From 2000 up until its closure the shop was based in the railway arches on Whitworth Street.
Thank you for reading 20 articles this month* Join now for unlimited access
Enjoy your first month for just £1 / $1 / €1
*Read 5 free articles per month without a subscription
Join now for unlimited access
Try first month for just £1 / $1 / €1