Icons of cycling: Harry Hall Cycles
A stalwart of the 1970s racing scene, Harry Hall's business was built on reputation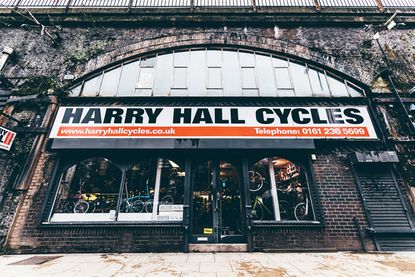 Look at a picture of almost any early 1970s big British bike race and you'll see a red and white van behind it. More than likely there'll be a guy stood up in the adapted back clutching a pair of wheels. That's Harry Hall.
Not only was he a race mechanic of note, he created one of the most respected bike shops in Britain.
London has Condor, Manchester has Harry Hall. The business, founded in 1955 by Harry and now run by his son Graham, is on Whitworth Street West.
>>> Icons of cycling: Condor Cycles
The original shop was on Gorton Road then moved to Cathedral Gate, and that's where Harry established his, and his business's, legendary reputation.
Harry Hall's was founded on old-fashioned principles. Instead of bigger premises, Hall said, "I'd just put more hooks in the ceiling."
And when he discovered the walls of his cellar were made of sandstone he expanded by chiselling out extra space.
"I was doing it one night and I left the door open. A policeman heard me hammering, investigated, and because there was a bank next door he thought I was trying to break in. That took some explaining."
Tom Simpson's mechanic
Hall was a good club racer and a great mechanic. As well as providing a mobile race service, he did the spanner work for many British teams, including the GB squad in the 1967 Tour de France. It was Harry Hall who reached Tom Simpson first when he collapsed on Mont Ventoux.
"He was weaving across the road then fell against a bank. I undid his straps and said: 'It's finished for you Tom.'
"But he said, 'No, I must go on Harry. Do my straps.' So I did them up, and I pushed him on, then he fell again," Hall said in 1992.
>>> Tom Simpson: a life in pictures
He admitted to feeling guilty about doing as Simpson had asked. "But what could you do? Tom was the boss, nobody in that team could tell him what to do."
Simpson's death affected Hall deeply, but he carried on, and his business grew through hard work and a novel marketing strategy. If a local rider showed promise Hall would give him a Harry Hall bike, but on the understanding that he paid for it at the end of the season.
However, every time the rider got his picture in Cycling Weekly he earned credits at the shop, which incentivised riders like Paul Sherwen and Graham Jones to win and pay off their bikes.
Hall did less in the shop after his son took over, and used his time to start racing again, winning an age-group world road race title in 1989. He died in 2007 at the age of 78.
Thank you for reading 20 articles this month* Join now for unlimited access
Enjoy your first month for just £1 / $1 / €1
*Read 5 free articles per month without a subscription
Join now for unlimited access
Try first month for just £1 / $1 / €1