Work begins to restore Tom Simpson Memorial on Mont Ventoux
Tom Simpson's memorial stone re-erected after being blown over in gale-force winds on Mont Ventoux. Photos by Chris Hodgson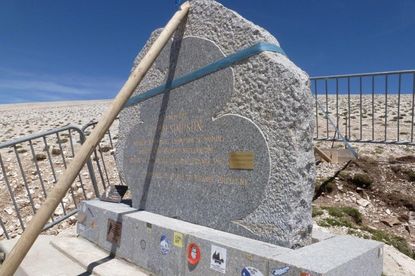 Work has started to fix the Tom Simpson memorial that stands on Mont Ventoux at the place where Simpson collapsed and died during the 1967 Tour de France.
The memorial was first erected in 1969, funded by donations made by British cyclists after an appeal by Cycling Magazine, which was what Cycling Weekly was called at the time. It's since been maintained by family and friends, funded again by donations from British cycling enthusiasts, particularly those from the Doncaster area, where Simpson grew up and started cycling.
The memorial stone was blown off its plinth during a violent storm last autumn, which occurred just before winter snow covered the mountain. Work to re-erect it had to be postponed until the local authorities were sure the snow had gone.
The work is being carried out under the instructions of the Mayor of Bedoin, the town that stands at the start of the southern climb to the summit, which is the one the Tour de France almost always uses.
Work is expected to be completed by Thursday (May 22).
Updated: Strong winds blow over the Tom Simpson Memorial on Mont Ventoux, repairs to be undertaken as soon as possible
Thank you for reading 10 articles this month* Join now for unlimited access
Enjoy your first month for just £1 / $1 / €1
*Read 5 free articles per month without a subscription
Join now for unlimited access
Try first month for just £1 / $1 / €1
Freelance Journalist & Author
Chris has written thousands of articles for magazines, newspapers and websites throughout the world. He's written 25 books about all aspects of cycling in multiple editions and translations into at least 25
different languages. He's currently building his own publishing business with Cycling Legends Books, Cycling Legends Events, cyclinglegends.co.uk, and the Cycling Legends Podcast