Tom Simpson Memorial to be repaired after damage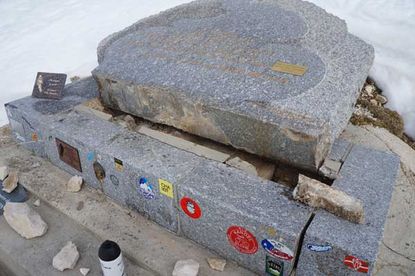 The Tom Simpson Memorial on Mont Ventoux, France, has blown over in galeforce winds. The top half of the stone appears to have snapped at its base, and fallen backwards off its plinth.
Dutch website www.dekaleberg.nl posted up a photograph of the snapped memorial stone on Wednesday. Local builders will inspect the damage as soon as possible and provide an estimate for its repair.
Chris Sidwells, cycling author and Simpson's nephew, helps to look after the Tom Simpson Memorial Fund, which will be used to pay for the repairs.
"We have some money in the fund, and it should be enough to cover the repairs," said Sidwells. "It looks like it has cracked at the base, so should be easily repaired."
The memorial was erected in 1968 to mark the spot, one kilometre from the summmit of Mont Ventoux, where Simpson died during the 13th stage of the 1967 Tour de France. The original granite memorial stone was paid for by donations from readers of Cycling magazine, the forerunner of Cycling Weekly.
Over the years the memorial has become a place of pligrimage for cyclists, and has had a plinth and then steps added to it after erosion threatened to topple it in the 1990s. Cyclists often leave their own tributes to Simpson at the stone, which is one of the few features to break up the bleak, moon-like scenery of the peak.
If the estimate for the repair work exceeds the amount of money left in the Memorial Fund, Sidwells has said that they may open an appeal. Watch this space.
UPDATE
December 16: The memorial has now been inspected, and Sidwells gave us a brief report of the damage: "I've had an on the scene report now. The granite memorial part has come out of the recess in the much larger blocks on which it stands, which have also been dislodged. These will have to be reset and made stronger before the memorial can be mounted back in place. However, we don't as yet have a builder's estimate and as the weather is closing in with a lot of snow due any minute, and the holidays are coming, that won't happen until the New Year."
All photos by Craig Entwistle, Veloventoux
Related links
Nine reasons why Mont Ventoux is a symbolic climb
Thank you for reading 20 articles this month* Join now for unlimited access
Enjoy your first month for just £1 / $1 / €1
*Read 5 free articles per month without a subscription
Join now for unlimited access
Try first month for just £1 / $1 / €1