In-form Graham Briggs on the lookout for 2014 contract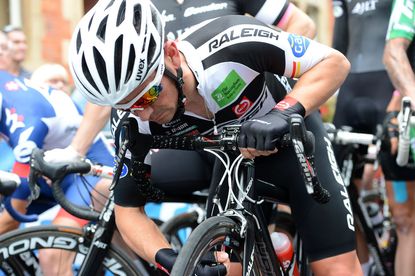 In-form Raleigh rider Graham Briggs is hopeful that his recent run of results will help him find a team for 2014.
Briggs added a win in Sunday's Out Of The Saddle Road Race to podium finishes in the Stafford GP Kermesse and the Leicestershire Castle GP earlier in the month.
However, the 30-year-old is on the lookout for a ride for next season after spending the last two years with his current squad.
"Nothing has been sorted out yet, but I've been talking to a few teams so I'm confident of getting a contract," the 2011 National Circuit Race Champion told Cycling Weekly.
"I'm really enjoying riding my bike at the minute. I didn't have a great start to the year through illness - the doctors said I had glandular fever, but they couldn't work out whether I had it a few weeks before or 10 years ago - but I've been training hard since then to get back on track.
"I've been racing a lot since May, and even though they're probably not the biggest of races I've been doing well in, it's good that the form is there."
The Yorkshireman added that his weekend win was particularly satisfying, as it came on home soil and from a unenviable tactical position.
"I always feel motivated to do well in the local ones. The café they use as an HQ [for the Out Of The Saddle Road Race] is only about eight miles away from my house, and I know the circuit well, although it was the first time I've ever actually raced on the whole thing.
"After a couple of laps, there were 20 riders in the break. I was the only Raleigh guy there, and Node4 [Giordana] and [IG] Sigma [Sport] had four in it. I decided to keep on attacking as I thought it was my best form of defence.
"That tactic whittled down the numbers and on the final lap we went down to four riders from four teams, [IG-Sigma Sport's Ryan] Mullen kicked into the final kilometre with a tailwind, but I brought him back and then I got [Mike] Northey in the sprint."
However, despite his rich vein of form, Briggs has not been chosen as part of Raleigh's six-man team for month's Tour of Britain.
"I wanted to race, but I've not been selected sadly," he said.
Thank you for reading 20 articles this month* Join now for unlimited access
Enjoy your first month for just £1 / $1 / €1
*Read 5 free articles per month without a subscription
Join now for unlimited access
Try first month for just £1 / $1 / €1