Inside British Cycling's £1 wind tunnel
Cycling Weekly goes behind the scenes of the new medal factory on British Cycling's doorstep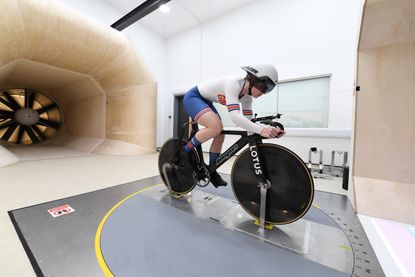 (Image credit: Future)
Get The Leadout Newsletter
The latest race content, interviews, features, reviews and expert buying guides, direct to your inbox!
Thank you for signing up to The Pick. You will receive a verification email shortly.
There was a problem. Please refresh the page and try again.
This feature originally appeared in Cycling Weekly magazine on 12 January 2023. Subscribe now and never miss an issue.
Standing inside British Cycling's new wind tunnel, I'm immediately struck by how cold it is. I had readied myself for the force of the air, but as the engines begin to whirr and the turbine roars, an icy blast punches me in the face. My fringe, still wet from the Manchester rain, lifts off my forehead and points skywards. To my left, a lady scrambles to catch her lanyard, now flapping from her neck towards the fan at the back of the chamber.
The turbine spins to a halt. In front of us, Ed Clancy, three-time Olympic gold medallist turned test dummy, shivers as he steps off his Lotus track bike. "Can somebody pass me my jacket, please?" he asks, rubbing his hands together for warmth. We laugh and turn to fix our dishevelled hairdos.
This wind tunnel is British Cycling's latest weapon in its quest for marginal gains. Valued at £1 million, the tunnel, - which used to be the heart of Boardman Performance Centre in Evesham, Worcestershire - was offered at a fire-sale price by previous owner, Halfords, and was snapped up by the governing body for just £1. My bus fare there from the train station cost more.
I've come to Manchester for a tour. My guide for the afternoon is Chris Hebert, British Cycling's senior aerodynamicist and the only member of staff qualified to run the wind tunnel. The six or so of us walk along a corridor and through a set of double doors. Here, Hebert stops us. "No pictures," he says. Suddenly I feel like Charlie Bucket, standing anxiously before the gates of the chocolate factory.
Hebert, who has swapped a top hat and cane for a branded polo shirt, leads us into the first room. It's a small workshop. I recognise the belt sander and milling machine from my tech class at school. Where's the glitz and glamour, I wonder. Where are the giant lollipops and chocolate river?
"The workshop is a critical part of tunnel testing," Hebert says. "You come in with a bunch of parts that have been designed and carefully crafted. And then as you go, you're like, 'Well that was crap. Oh, this was good.' And you combine things and re-design.
"Tunnel testing is expensive. You want to make the most of every minute that you've got in there."
Efficiency, it turns out, is the operative word. For years, Britain's top cyclists have travelled from their homes in Manchester down to Southampton to use a satellite wind tunnel.
Chris Boardman, the former Olympian who ran British Cycling's research and development programme for almost a decade, says he travelled a week every month to the south coast, where he carried out some 20,000 tests.
When Boardman left his post, he wrote a list of 10 things to improve the programme, and left it on the chief executive's desk. "Point number one was buy a wind tunnel," he says, "it will pay for itself in five years."
So passionate was Boardman, who is here to help with the tour, that he then went away and built his own wind tunnel. In 2018, he joined up with Halfords to open the Boardman Performance Centre, making tunnel testing commercially available to the public.
"This was literally my tunnel," he says of British Cycling's newest toy. When the centre was closed down in 2020, Halfords set out to find another home for their state-of-the-art facility. That place, it was decided, would be here - the Manchester Institute for Health and Performance - located on the eastern outskirts of the city, a convenient 10-minute stroll from the National Cycling Centre.
Moving it, Boardman explains, wasn't simple. "It was a nightmare. It's like moving a house," he says. I can see why. As my tour progresses, we amble from the workshop into a high-ceilinged warehouse. In the middle is a giant suspended box of freshly sanded wood, held up by a bulky steel framework. We walk up some stairs and into a control room, from which we have a perfect side-on view of Clancy on his bike.
In the coming months, hundreds of British athletes will step inside this chamber, many of whom wouldn't have been deemed worthy enough for a trip to Southampton. "Once you have it on your doorstep, you can feed riders through here very, very efficiently," says Boardman. "The benefits from this are not always what you might think. It's not always about kit, it's about knowledge. It's about understanding."
This feeling is echoed by aerodynamicist Hebert. "The main thing is about the athletes," he says. "Proximity to them, integrating it into how they train, how they develop, not just from a power production point of view, but holistically.
"They can keep coming in and refreshing, keep incrementally improving. It's also less disruptive because it's just down the road. It can be an integral part of what they do, day by day."
For the first time, athletes will be able to do wind tunnel testing in the morning, before heading over to the track to trial what they've learnt. The hope now is that, the more the riders use the tunnel, the more aware they'll become of the impacts of aerodynamics and positioning on performance.
They haven't got long to learn, though. "There's big pressure," says Hebert. British Cycling has until August this year to register all of its equipment with the UCI for use at the Paris Olympics in 2024.
"This window is absolutely crucial," Hebert says, looking ahead to the next seven months. "If we want to have everything that we use submitted to the UCI, we kind of need to know what positions [the riders] are going to be in, so that we can design bars and suits.
"But we're not daunted by it. We know what resources we've got, we know where we can push and pull things to go faster."
The Brits, Hebert explains, are at a distinct advantage. As it stands, British Cycling is the only national cycling federation in the world with its own wind tunnel, but this competitive edge might not last long. On the other side of the globe, the Australians are also developing their own tunnel, scheduled to be built at the Adelaide Super-Drome, where the elite squad trains.
"The rest of the world has been catching up," says Hebert. "The Great Britain Cycling Team was completely dominant for Beijing, London and Rio. But that's definitely not the case anymore. This is part of shifting us forward again."
With the clock ticking and the deadline drawing closer, some might wonder if Paris is too soon for Great Britain to reassert its former track cycling dominance. British Cycling's performance director Stephen Park doesn't think so.
"We'll see an impact in Paris for sure," he says, "particularly, I think, around positioning, but also around maybe suit-fitting or helmet-fitting. It's so much more individualised now than it has ever been."
The real shift, Park adds, is likely to come at the summer Olympics in Los Angeles in 2028, by which time the current academy prospects will be leading the squad. "They'll have had access to positioning work in the tunnels that historically they haven't done because it's just too expensive for us to do that," he says. "I think it's going to be a game-changer."
Although the wind tunnel will save British Cycling money in travel fees ("we'll save a fortune," Park says), running costs for the machinery are still big. The goal, at some point, is to find a commercial partner to run services for individual members of the public. Though that's unlikely to be anytime soon.
For now, everything is focused on the elite-level athletes. There's a schedule in place. Each day, Hebert and his team will welcome rider after rider into the chamber. There, they'll bend and twist themselves into different positions, trying on new kits and dipping their heads to brave the cold air.
The wind, reaching top speeds of 80km/h, will flow over their backs, pulled through to the back of the suspended wooden box. (A crucial point to understand: air is not blown into a wind tunnel, it's pulled through.)
British Cycling has only had its new weapon a few months, but already it's planning to upgrade it. "We're going to continue to augment it, improve it, add new systems, improve the fidelity," says Hebert, "whatever we can do to make it a better instrument."
Asked what those upgrades might involve, Hebert returns a wry smile. "That's for me to know," he says.
Thank you for reading 20 articles this month* Join now for unlimited access
Enjoy your first month for just £1 / $1 / €1
*Read 5 free articles per month without a subscription
Join now for unlimited access
Try first month for just £1 / $1 / €1
Get The Leadout Newsletter
The latest race content, interviews, features, reviews and expert buying guides, direct to your inbox!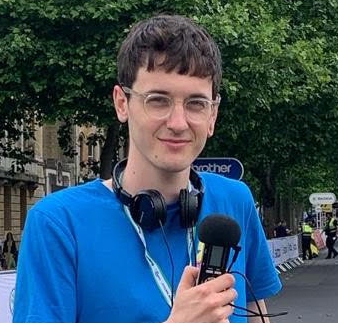 Tom joined Cycling Weekly as a news and features writer in the summer of 2022, having previously contributed as a freelancer. He is the host of The TT Podcast, which covers both the men's and women's pelotons and has featured a number of prominent British riders.
An enthusiastic cyclist himself, Tom likes it most when the road goes uphill and actively seeks out double-figure gradients on his rides.
He's also fluent in French and Spanish and holds a master's degree in International Journalism.