James McCallum: Revitalised by move to new NFTO team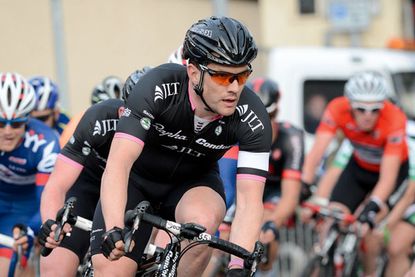 James McCallum is moving to the new Not For The Ordinary (NFTO) team in 2014 and, although he's been revitalised by the new squad, he's not leaving the Rapha Condor JTL outfit under a cloud.
"I had a great time with Rapha, they were very good for me but, you know, it's like any other job, in the end sometimes you need a bit of a new challenge to get you really motivated again. John (Herety) was great to work with as well, though it was too easy just to settle into a role in the team - mainly helping Kristian (House) and Ed (Clancy) - which was fine, but it means you get fewer and fewer chances to ride to try to get a result for yourself.
"There were obviously a couple of times when I did get a chance, but most of the times that happened I was tired from helping the others. I'm not complaining, it was a role that I fell into quite happily, but the new team means I have a great chance to try to get a couple of results for myself."
McCallum's way into the new NFTO squad came via his friendship with his former Rapha team mate Dean Downing, who had already signed for the new outfit.
"I'm friendly with Deano and at the national road race he was asking me how things were and I kind of said 'Alright, but I could maybe do with a change.' And he said it was funny I should say that because there was something coming up that might be of interest. Later that day it ended up that there were three of us having dinner - me, Deano and John Wood (the team owner and backer) and it went from there."
So far, McCallum has been impressed with how much and how many promises that the new team has delivered on. "It's been great," enthused the Scot, "it's barely December and already I've got all my kit, shoes, helmet and three bikes, I don't think that's happened before, so things are looking really good, Wood is so passionate and enthusiastic about the team."
McCallum had missed out on the NFTO training camp in Majorca, but, like so many others, had seen the grim video footage of his new team mates grovelling in the torrential rain behind a team car. "Aye, I'm not unhappy to have missed that, it looks like the weather in Scotland has been better. I spoke to some of the boys and they're calling it the Glandular Fever camp," chuckled McCallum.
Instead, McCallum was scheduled to go on a 10-day training camp to Girona with the Scottish national squad and confessed that, although he would only be able to attend it for a week, he was looking forward to it.
"Actually, my daughter is only a month old and having a new baby takes it out of you. It's weird, some days I feel fine and others I'm just knackered. I'll be going on the training camp looking forward to some sleep!" laughed McCallum.
Thank you for reading 20 articles this month* Join now for unlimited access
Enjoy your first month for just £1 / $1 / €1
*Read 5 free articles per month without a subscription
Join now for unlimited access
Try first month for just £1 / $1 / €1