James shines at National Track Champs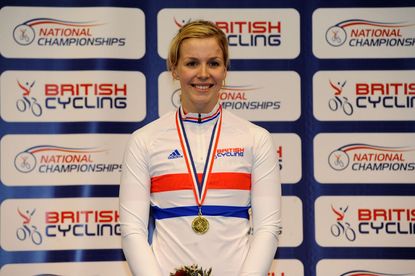 Twelve months ago the National Track Championships were the beginning of the final build up to the Olympic and Paralympic Games for British cycling's top athletes, the springboard for the final round of international competition leading up to London 2012.
This time around, with the success of Games been and gone, none of the London Olympians were present to contest the national champions jerseys last week, while Mark Colbourne, Jody Cundy and Craig Maclean were the only Paralympians to make an appearance.
The stage was set for the next generation of track riders to take to the boards and throw their name into the hat for the next four years building up to Rio 2016. Cycling Weekly takes a look at some of the standout performances from last week's action.
______________________________________________________
Becky James (Abergavenny CC) was the undeniable star of the velodrome, winning gold in all four women's sprint events.
She opened her competition with a new personal best in the 500m time trial before adding the individual sprint, keirin and team sprint titles. The latter she won with the help of her older sister, Rachel, who had only taken up cycling a year ago and for whom the nationals were the first serious competition.
"Becky has been really supportive," James senior said. "After not doing a great time trial on the 500m or the 200m she was really good at talking me through the sprints and just keeping me going. Its nice to have someone who knows what they're doing!"
Becky James talks to sprint coach Jan Van Eijden
"We have talked about this quite a few times before," added James junior, "and I think this one means a lot to me. It's my older sister and it is really good for both of us to get a good time."
______________________________________________________
The 100% ME team took the men's team pursuit title with ease, catching their opponents Champion System with just over half of the 4km race completed.
Unfortunately it prevented them from clocking a time on the finish line, although at the half-way mark they looked good to beat their qualification time of 4-10 and appeared to be on for a new competition record. Junior prospect Jon Dibben meanwhile helped his Hargroves team secure bronze from Prestige VC.
______________________________________________________
Simon Yates (100% ME) put in an impressive display in the men's omnium, going one better than his silver medal in 2011.
Simon Yates (100% ME) took two titles on his return to the track
The Academy rider won both the points race and elimination on his way to the title, picking up silver in the flying lap too. His team-mates Joe Kelly and George Atkins filled up the podium to make it a clean sweep for the Academy boys.
______________________________________________________
Paralympic gold medallist Mark Colbourne set a new world record in the para-cycling 200m time trial, clocking 14.177 seconds to beat Sophie Thornhill and Megan Boyd (pilot).
The pair from Sport City Velo actually set a quicker time of 11.829 seconds but lost out due to the scoring system, where athletes are awarded points based on the proximity of their time to the world best in their particular category.
Mark Colbourne during the national track champs
There was an extra level of complexity though, because juniors Boyd and Thornhill had to be compared to an 'estimated' best time for their category thanks to a lack of 'official world best times' for them.
Confused? Points systems aside, it meant that Colbourne, riding for Para-T Cycling, was able to turn the tables on the tandem pair, who beat the Welshman in the para-cycling the day before.
______________________________________________________
The men's individual sprint saw some hot competition between riders eager to make their mark on the event and on selectors' minds.
Callum Skinner (Edinburgh City) narrowly edged Lewis Oliva (Bristol Development) for the jersey while there were fierce battles between the likes of Matt Crampton, John Paul, Dave Daniell and Pete Mitchell, with Crampton eventually getting the better of Daniell for the bronze medal.
______________________________________________________
Britain's two junior road world champions Lucy Garner (road race) and Elinor Barker (time trial) came head to head in the final of the women's team pursuit.
Barker, riding for Scott Contessa Epic with Emily Kay and Amy Roberts clocked a 3-37 in qualifying, just eight seconds faster than Garner, Corinne Hall and Harriet Owen of Node4-Giordana. Yet the Welsh riders rode the final in style, catching Node4 with less than three minutes ridden to claim gold. Team Ibis Cycles won bronze in a similar style from VC St Raphael.
Related links
British National Track Champs 2012, day three: Photo Gallery
British National Track Champs 2012, day two: Photo Gallery
British National Track Champs 2012, day one: Photo Gallery
Thank you for reading 10 articles this month* Join now for unlimited access
Enjoy your first month for just £1 / $1 / €1
*Read 5 free articles per month without a subscription
Join now for unlimited access
Try first month for just £1 / $1 / €1
Richard Abraham is an award-winning writer, based in New Zealand. He has reported from major sporting events including the Tour de France and Olympic Games, and is also a part-time travel guide who has delivered luxury cycle tours and events across Europe. In 2019 he was awarded Writer of the Year at the PPA Awards.