Joaquim Rodriguez's Fleche Wallonne defence in doubt after Amstel Gold crash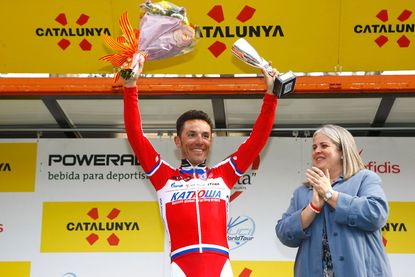 Joaquim Rodriguez (Katusha) placed doubts on his chances of defending his Fl
èche Wallonne title tomorrow (Wednesday). The Spaniard crashed on Sunday in the Amstel Gold Race and said in a press conference today that Flèche Wallonne will be difficult to win.
"It's a real blow because I'm coming here with better shape than last year," he told reporters in Riemst, Belgium.
"If it were any other race, it would not be so bad, but these are my favourite races of the year. It's going to be difficult to start tomorrow knowing that I probably have no chance of winning."
Rodriguez crashed about 43 kilometres to race, before the 26th climb, the Gulpenerberg. He picked himself up, but limped around on his left leg. Despite re-starting, he abandoned the race and compromised his Ardennes Classics run.
A doctor's visit yesterday confirmed no muscle tears, just a heavy hematoma. Today he rode for three hours, planning for Flèche Wallonne, but also for Liège-Bastogne-Liège and the rest of his season.
"I hope to reach the base of the Mur de Huy in the leading group, especially to help Dani [Moreno]. And if I feel good, then why not?" Rodriguez continued.
"It's a dream to win Liège-Bastogne-Liège. I hope to be there ready to try to win. That's what I've been working for all these months. It's a shame the accident happened, but that's life."
Tour de France on the horizon
The 33-year-old Spaniard modified his season to prepare for a run at the Tour de France overall. Instead of racing the Tour of Basque Country as he normally does pre-Ardennes, he raced the Tour of Catalonia and trained at altitude in Tenerife.
"His first goal is still Flèche and Liège, but of course, the Tour requires good preparations. He's been busy for it," sports director, Valerio Piva told Cycling Weekly.
"After Liège, we'll go to England to test in the wind-tunnel, then we will recon the time trial in Mont-Saint-Michel, after Dauphiné we will recon the second time trial.
"He's busy for the Tour and wants to perform well there. It's important to have that goal in his head, not to let anything get in his way. However, 'Purito' likes to win. He's thinking about the Tour, but he's here to win a classic."
Read Cycling Weekly magazine on the day of release wherever you are in the world with our iPad and iPhone edition - International digital edition, UK digital edition. And if you like us, rate us!
Thank you for reading 20 articles this month* Join now for unlimited access
Enjoy your first month for just £1 / $1 / €1
*Read 5 free articles per month without a subscription
Join now for unlimited access
Try first month for just £1 / $1 / €1