Killeen wins final National Trophy round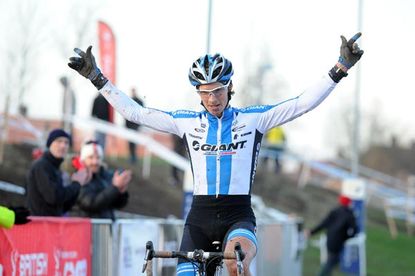 National Trophy 2011-12 round 6, Shrewsbury photo gallery by Andy Jones>>
Giant rider Liam Killeen took victory in the final round of the National Trophy Series in Shrewsbury on Sunday, leading virtually from start to finish of the race at Sundorne Sports Village, Shrewsbury.
The Malvern-based rider was disappointed to finish second in the National Championships the previous week, but he went some way towards getting over the fall that cost him the title with a win in the sixth and final round.
The title went to long-time leader Paul Oldham (Hope Factory Racing) for whom third was enough to preserve the overall lead.
Oldham, from Colne in Lancashire, had to recover from a fall which saw him get course marking tape wrapped around his neck. Apart from losing several places, he was badly winded by the experience, and did well to recover and make it back up to third place.
Jody Crawforth (Hargroves Cycles) took second spot behind Killeen after battling for long periods with Nick Craig (Scott UK), whom Oldham overhauled on the final lap.
Steve James (Hargroves Cycles) was looking for a top placing to cap his overall series win in the Under-23 category, but he smashed his read mech and lost a lot of time running back to the pits. Grant Ferguson (Boardman Elite) was top Under-23 rider and sixth on the day, but James recovered and did enough to take the overall title.
In the women's race, Louise Robinson took the win ahead of her Stourbridge CC team-mate Isla Rowntree, while junior Amy Roberts (For Viored) took third. Hannah Payton, in fifth, did enough to secure the overall series win.
With three National titles to her credit, 47-year-old Robinson crossed the line around a minute and a half ahead of Rowntree, and was the only one of the top riders not to suffer a fall in the muddy conditions.
In the veterans races, Darren Atkins (Team Jewson) held off series winner Jim Bryan (Zepnat) for the over-40s victory, while series winner Mick Bell (London Fire Brigade CC) capped his series win with victory at Shrewsbury - the first time he has beaten Steve Davies (Team Jewson) in the series this year.
Joe Moses (Paul Milnes-Bradford Olympic) took the junior title in style with victory in the final round, although he was only 15 seconds ahead of Alex Welburn (Cycleshack), while Wheelbase rider Tom Armstrong had to settle for third after leading for a time.
And Solihull CC's Jack Ravenscroft and Leicestershire RC's Charlotte Broughton capped convincing series wins with victories in the Under-16 boys and girls categories respectively.
Liam Killeen on his way to winning the final National Trophy round in Shrewsbury
Paul Oldham wins the 2011-12 National Trophy cyclo-cross series
Related links
National Trophy 2011-12 round 6, Shrewsbury photo gallery by Andy Jones
Thank you for reading 20 articles this month* Join now for unlimited access
Enjoy your first month for just £1 / $1 / €1
*Read 5 free articles per month without a subscription
Join now for unlimited access
Try first month for just £1 / $1 / €1