Last chance to enter early July sportives and first look at Bradley Wiggins new sportive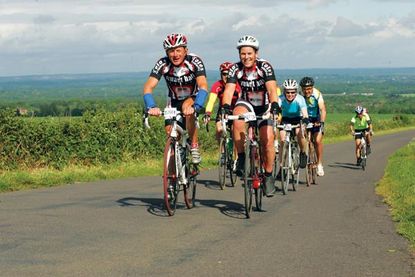 >>>Cycling Weekly's full 2012 cycle sportive calendar
Green Bottle Promotion
Along side the recently launched Gatorade Green Bottle Promotion, which sees a blog during the Tour de France, Gatorade will be asking cyclist to upload stories to Facebook or Twitter. The winners of the competition will be given a place on the Bradley Wiggins Foundation Sportive, which takes place on Sunday August 19. The ride will be based in and around Wiggins training grounds in the Lancashire countryside following either a 100 or 160km route. This is a great chance to ride along with Brad hopefully after a successful campaign at the Tour de France and the Olympics. Upload stories to Facebook or Twitter or check www.bradleywigginsfoundation.org
Wiggle Wight Ferry's Sportives
With a few days to go the Wiggle Wight Ferry's Sportive has now sold out. The promotion from UkCyclingEvents has billed this event as the UKs most innovative sportive, which for a second year running has sold out, despite the capacity doubling. Taking in the New Forest National Park, ferry crossings and a route around the Isle of Wight, you can see why it is so popular.
Web: www.ukcyclingevents.co.uk
Kent Air Ambulance Ride
Medway Velo will be promoting once again the two-route charity ride in aid of the Kent Air Ambulance service that also covers Surrey and Sussex. This vital service, which isn't funded by the government, NHS or National Lottery, is the only kind in the country and provides fast and essential service to the southern regions of the UK. Choose from either 30km family ride or a 100km hilly ride into the Kent lanes starting and finishing at Boughton Aluph Village Hall in Ashford. For more details check www.medwayvelo.org.uk/kaa
Nottingham Cycling Festival
Whilst providing a whole host of entertainment from rides to races, the Nottingham Cycling Festival between Friday July 13 and Sunday July 15 hosts a new challenge. The E.ON Nottingham City Ride will replace the Great Notts Bike rides, which was a 5km family challenge. For 2012, the City Ride will be a 3mile ride starting from Victoria Embankment in Nottingam on traffic free roads around the south of the city. 1000 places have been made available for this ride, which can be claimed at www.cyclelivenottingham.co.uk
Great Weston Ride
The popular 56mile challenge ride traveling through the Mendips, Somerset Levels and Weston-super-Mare is now being supported by the Bristol Cycling Development Squad. The squad, which is a youth club at heart, will provide a number of support services throughout the ride. The third Great West Ride is still taking places, however, entry closes soon. A service will be provided to get you back to the start point in Long Ashton Park, but you must book in advanced. For more information check www.greatwestonride.com
Ride Around London
A brand new sportive has been launched recently which is set to celebrate cycling in and around London. Rebecca Romero and Lizzie Armitstead have given the sportive their backing along with 1000 riders ready to take the ride on. The event that takes place on Sunday September 30 will include two routes of either 60 or a 100miles both to include Herne Hill Velodrome, Box hill, Windsor Castle and Eton Dorney all of which have or will feature in the Olympics. Places are still available but limited so be quick www.accesssport.org.uk/ride-around-london
The Devil in the Downs
After receiving recognition from Her Majesty the Queen the Worthing Excelsior Cycling Club will be celebrating their 125 years in service with the Devils in the Downs sportive this coming August. Three routes will be available on the day which include a 125k route that hosts 1500 meters of climbing tackling the likes of Devils Dyke and Cobb Lane. The Little Devil following much of the Devils route with only 85km length and the Imp covering 50km. For more details check www.worthingexcelsior.co.uk
Peterborough Cycling Club Sportive
With only a few days to go till the popular sportive event held in between Peterborough and Leicester organisers are still taking entries. One of the oldest clubs in the UK wil allow every entry an automatic token into the raffle, which has prizes from Sports and Speed, Rapha, Zipfit and Scicon. With only 300 allocated spaces this ride is expected to sell out before the day so be sure to get an entry in. Steve Lampier of IG Sigma Sport will be riding for the second time so this will be a great chance to ride with a Tour Series and Tour of Britain rider.
Web: www.peterboroughcyclingclub.co.uk
Liverpool Chester Liverpool Bike Ride
Beginning for the 19 year in a row the L-C-L bike ride will kick off from 7.30am on Sunday July 8. The ride with a number of starting and finishing points offers five different routes all of which still have spaces available. Organisers expect over 3000 cyclists to take part, which will give entrants the opportunity to ride through the Mersey Tunnel. Registration from £18 for adults, from £15 for under 17s. Visit www.liverpoolchesterliverpool.com to register
Seven Bridge Sportive
Last week saw the confirmed date and booking system go live to take the Seven Bridge Sportive into its third year. The new date will be Sunday August 26, which will tie in with the Castle Combe Cycling Festival based at the racing circuit there. As well as the two rides on the sportives the day has a number of activities including; circuit challenge, have a-go-sessions and stunt bike displays. For more details on the event and the festival check www.castlecombecyclingfestival.co.uk
Pain on the Plain
This coming weekend seems to be a very popular for sportives as we have another event still taking entries. The Pain on the Plain sportive kicks off in Tidworth with three routes available all using a mixture of military roads, which are usually out of bounds to civilians and public roads. The event organisers hope to make this event unique with the use of some slightly off road optional routes to choose from along the way. Pick from either 100miles, 60miles both £29.50 or the short £30miles costing £10. For more information check www.wheelsinwheels.com
Spotlight on..... Wiggle Northern Angel
With a number of events as well as a weekend long cycling festival cropping up from this part of the world, it really does seem like Newcastle is the place to go for cycling in 2012. This coming July 21 see's the annual Wiggle Northern Angel Sportive promote the usual format from Uk Cycling Events in the form of three routes, this time on virtually traffic free roads according to organisers.
The routes all head into the Northumberland National Park following either the Epic 92miles, Standard 80miles or the 66miles fun route. Each ride does provide a challenge and will see over 5000ft of climbing for the Epic, 4000ft for the Standard and 3000ft for the fun route, which will cost £26, £24 and £21 respectively. Under 16's go free.
For more details on the event check www.ukcyclingevents.co.uk for details.
Upcoming events
Sunday July 22: Tour of Cotswolds - Cotswolds
Sunday July 29: Graeme Obree Classic - Scotland
Sunday August 5: Evans Rideit! - Brighton
Thank you for reading 10 articles this month* Join now for unlimited access
Enjoy your first month for just £1 / $1 / €1
*Read 5 free articles per month without a subscription
Join now for unlimited access
Try first month for just £1 / $1 / €1
Symon Lewis joined Cycling Weekly as an Editorial Assistant in 2010, he went on to become a Tech Writer in 2014 before being promoted to Tech Editor in 2015 before taking on a role managing Video and Tech in 2019. Lewis discovered cycling via Herne Hill Velodrome, where he was renowned for his prolific performances, and spent two years as a coach at the South London velodrome.