2011 Good Friday International moves to Manchester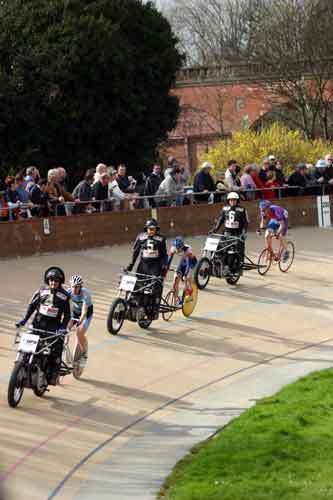 Next Easter marks the end of 107 years of international track racing history in the south, when the famous Good Friday International Meeting goes indoors - transfers from Herne Hill track in London to Manchester Velodrome!
Date for your diary, April 22.
No need for a hat or coat, or umbrella!
"After more than three years of indifferent weather, culminating in the loss of the event this year, the Southern Counties Cycling Union have not taken the decision lightly," Graham Bristow, the promoter, told Cycling Weekly.
"We realise that many people will be disappointed that the world famous meeting, first held in 1903, is moving away from South London's Herne Hill."
The SCCU was left with no choice. In recent years they have been barred from using the Victorian Grandstand which is falling to pieces and is now a dangerous structure.
The enforced move from London 200 miles north to Manchester, follows five years of dithering by owners Dulwich Estate who have been unable to agree terms which would allow British Cycling to invest in urgent repairs to this famous track.
In 1948, Herne Hill hosted the 1948 Olympics, and over the years has attracted the top pros. Men like Britain's post-war sprinting ace, Reg Harris, Tom Simpson, Italy's Fausto Coppi, France's Jacques Anquetil.
Today, VC Londres, who manage the track on behalf of British Cycling, run a thriving summer school.
There is also the popular weekly Monday Comp track league. The track surface, while still good enough to race on, is nevertheless in need of urgent attention.
"We've heard nothing concrete regarding extending the lease, or of any plans for redevelopment," Bristow told Cycling Weekly.
"Personally, I am really, really said it's come to this," he added. "But from SCCU's point of view, we cannot allow sentimentality to kill the event."
He said the meeting has suffered from lack of basic facilities and this year, at the first sign of rain, riders and spectators who had nowhere to shelter took to their cars, and others just left.
"The meet needs reinvigorating, and so this is a positive move which will allow us to do that."
Thank you for reading 5 articles this month* Join now for unlimited access
Enjoy your first month for just £1 / $1 / €1
*Read 5 free articles per month without a subscription
Join now for unlimited access
Try first month for just £1 / $1 / €1
Keith Bingham joined the Cycling Weekly team in the summer of 1971, and retired in 2011. During his time, he covered numerous Tours de France, Milk Races and everything in-between. He was well known for his long-running 'Bikewatch' column, and played a pivotal role in fighting for the future of once at-threat cycling venues such as Hog Hill and Herne Hill Velodrome.