95 SECONDS BETWEEN EVANS AND A FIRST TOUR WIN FOR AUSTRALIA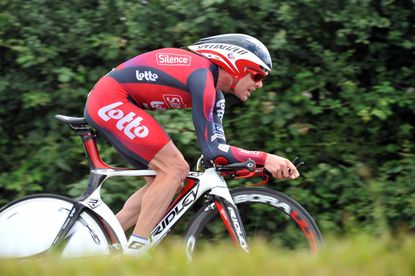 Hendrik Redant, team manager of the Silence-Lotto squad, says he won't lie to Cadel Evans during this afternoon's time trial.
"If he's down, I will tell him he's down," said the Belgian. But he added that the difficulty would be that Evans will be well into his ride before Carlos Sastre even sets off.
"There is nine minutes between them on the road. Ideally it would be more helpful to us if that gap was three or six minutes. It means that the information I give to Cadel will not be that relevant, because he will be finished before Sastre reaches the final checkpoint on the course.
"So there is no option but to go as hard as possible. It may take a long time before Cadel has a big enough gap to win the Tour de France.
"Normally, he should win. It's 95 seconds. That's all it is. He took that in the first time trial at Cholet and that was only 29 kilometres. This is 53. Normally, he should win... but, there are no guarantees.
"We are happy to be in this position. As I said, the only thing that is a little setback is that Evans is fourth overall. If he was second or third, he would have a clearer picture of what Sastre is doing while he's on the road."
Redant said he would be very surprised if either Frank Schleck or Bernhard Kohl were a factor, and said that fifth-placed Denis Menchov was now too far back to win. "No, I think it is only Evans and Sastre," he said.
Meanwhile, CSC directeur sportif Scott Sunderland, said he felt Sastre had a chance. "It's not guaranteed [that Evans would win]. Carlos is in the yellow jersey and the gap gives him a chance.
"He will have to start fast and try to maintain it. There can't be any holding back because Cadel is a strong rider in the time trial and if Carlos doesn't give it his maximum, the gap will close."
Swipe to scroll horizontally
TOUR DE FRANCE 2008: STAGE REPORTS
Stage 19: Chavanel wins, time trial showdown looms
Stage 18: Burghardt shows that Columbia can win without Cav
Stage 17: Sastre wins on Alpe d'Huez, takes lead
Stage 16: Dessel wins
Stage 15: Schleck takes lead in the Alps
Stage 14: Oscar Freire wins in Digne-les-Bains
Stage 13: Cavendish takes fourth win
Stage 12: Cavendish makes it three
Stage 11: Arvesen wins
Stage 10: Evans takes yellow jersey by one second
Stage nine: Ricco wins in the Pyrenees
Stage eight: Cavendish wins again in Toulouse
Stage seven: Sanchez takes action-packed stage
Stage six: Ricco storms to win
Stage five: Cavendish takes first Tour win
Stage four: Schumacher wins TT and takes race lead
Stage three: Dumoulin wins stage from break
Stage two: Hushovd wins chaotic sprint
Stage one: Valverde wins
Swipe to scroll horizontally
TOUR DE FRANCE 2008: NEWS
Schlecks' father's car searched
Analysis: tactical battle on L'Alpe d'Huez [stage 17]
Schleck promises to attack main rivals
Schleck ready to defend Tour lead [stage 15]
Rest day news round-up [July 21]
Saunier Duval riders: "We are honest"
Cavendish talks to Cycling Weekly after quitting Tour
Schleck savours first ever Tour de France jersey [stage 15]
Comment: Why Cav is right to go home today
Cavendish pulls out of the Tour
Barloworld to end cycling sponsorship
Ricco speaks on Italian television
Cavendish joins the all-time greats
Saunier Duval sack Ricco and Piepoli
Tour bosses say fight against doping continues
Ricco denies doping at the Tour
Saunier Duval pull out of Tour
Tour's top ten changes
Ricco positive for EPO at Tour
Analysis: Tour de France rest day summary
Cavendish battles through Pyrenees
Evans suffers but takes yellow jersey [stage 10]
Analysis: Hautacam shakes up 2008 Tour
Ricco silences critics with solo attack in Pyrenees [stage nine]
Cavendish talks about his second stage win [stage eight]
Beltran heads home but doubts remain about other Tour riders
David Millar: the dope controls are working
Manuel Beltran tests positive for EPO at the Tour
Comment: How the Tour rediscovered its spirit
Doping back in Tour de France headlines
Millar: close but no cigar in Super-Besse [stage six]
Super-Besse shows form of main contenders [stage six]
Millar to go for yellow [stage six]
Team Columbia's reaction to Cavendish's win [stage five]
Cavendish talks about his Tour stage win
Tour comment: Why Evans should be happy [stage four]
Millar: Still aiming for Tour yellow jersey [stage 4]
Who is Romain Feillu?
Cavendish disappointed with stage two result
Millar too close to Tour yellow jersey
Stage 2 preview: A sprint finish for Cavendish?
Millar happy after gains precious seconds in Plumelec
Valverde delighted with opening Tour stage win
Comment: Is Valverde's win a good thing for the Tour?
Swipe to scroll horizontally
TOUR DE FRANCE 2008: PHOTOS
Swipe to scroll horizontally
TOUR DE FRANCE 2008: BLOGS
Life at the Tour part five
Life at the Tour part four
Life at the Tour part three
Life at the Tour part two
Life at the Tour part one
Swipe to scroll horizontally
TOUR DE FRANCE 2008: GUIDE
Tour de France 2008 homepage>>
News and features>>
All the riders (start list, list of abandons)>>
Day by day summary>>
Route & stages>>
Teams and riders>>
About the Tour>>
Thank you for reading 20 articles this month* Join now for unlimited access
Enjoy your first month for just £1 / $1 / €1
*Read 5 free articles per month without a subscription
Join now for unlimited access
Try first month for just £1 / $1 / €1