Adrian Timmis goes back to 1987 and rides Alpe d'Huez
Adrian Timmis rewinds the clock 28 years ago to climb Alpe d'Huez again, in the same jersey and on the same bike as when he rode it at the 1987 Tour de France. That and more in this week's Cycling Weekly (October 1).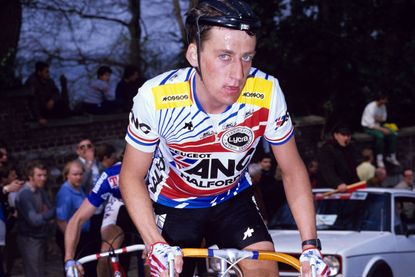 (Image credit: Watson)
In 1987 Adrian Timmis tackled Alpe d'huez during the Tour de France with his ANC-Halfords team. On the same date this year he returned, on his old Peugeot bike and in his Eighties kit, to relive the day.
Riding and competing the Tour is an achievement that 51-year-old Timmis proudly boasts about. Anyone in the vicinity of Alpe d'Huez on July 21 this year could have been forgiven for thinking that stepped back in time almost 30 years, for Timmis once more took on the climb in the French Alps
Read more about the amazing story of the 1987 Tour and how Timmis was reunited his old Peugeot bike in this week's Cycling Weekly
The front cover of this week's edition is adorned by a smiling rainbow jersey-wearing Lizzie Armitstead holding aloft the Union Jack after her World Championship win on Saturday.
It is Armitstead's win that takes precedence up front, with the Yorkshire queen candidly opening up about her plans after 2016 and a guest column from teammate and GB time-trialist Hayley Simmonds.
There is in-depth coverage of the worlds, analysis of Armitstead's and Peter Sagan's win, as well as a round-up of the rest of the action in Richmond.
Katy Marchant's four National Track titles in Manchester are reviewed, while Rob Hayles discusses the process of design and manufacturing bikes.
We've all been guilty of bemoaning lactic acid when our efforts seize and we begin to struggle.
But lactate must be acquitted, for it is an innocent metabolite. Lactate is a fuel and not a waste product. In our in-depth article, we explain the actual function of lactate and try to dispel the myth. A must-read for all riders.
We recently rode the Etape Loch Ness and we have a preview to the 2016 event that works its way around the UK's largest body of water in the stunning Scottish Highlands.
If the review of the sportive tempts you into entering, a brand new bike would be perfect, wouldn't it? If you are after a new bike, you could invest in the GT Grade Carbon Ultegra which we review this week. We also review commuter backpacks –but which one do we describe as truly excellent?
News:
Paul Oldham tells us about his lifetime ambition of winning the Yorkshire Three Peaks cyclo-cross race;
We have a transfer round-up, including details of Sky's new signings;
Two British races have been included in the new Women's World Tour, and we have an update on two other UK events that are also seeking top-tier status
Feature:
There are 15 mistakes that every cyclist has made. We take a look at these embarrassing moments that as riders we're all guilty of and would rather forget.
Tech
Does the angle of your chain matter? Should you be worrying about your chainline efficiency? We put the question to test;
Road-tested items this week include the Garmin Virb XE camera, and the Bontrager R3 TLR tubeless tyres;
Fitness
When the road rises and dips without any sustained climbing or descending, it can be hard to maintain a constant pace. We advice how to get to the summit of undulating terrain the fastest.;
Matt Cronshaw, of Madison-Genesis, details his diet in a day. How does a top UK rider fuel before and after an intense criterium?;
There's evidence to suggest that icy water may suppress muscle growth, so we explain all for you
Regulars
You give your verdict on this year's Tour of Britain;
The SAS (not the SAS, but Saltford & Keynsham CC) take us our for a ride around the Somerset roads;
Yorks Hill, used as the Catford CC hill-climb, is this week's Killer Hill to conquer;
We have all the latest results from the domestic scene in our dedicated results page;
Dr Hutch is back with more entertaining chatter, this time regaling the tale of how his friend Bernard invested Strava before Strava invented Strava. Confused? Give it a read;
This week's Icons of Cycling focuses on the Leicester Velodrome, the venue of the 1970 and 1982 World Championships.
Cycling Weekly is available in all good newsagents and supermarkets. It is also available for download on all devices.
Thank you for reading 20 articles this month* Join now for unlimited access
Enjoy your first month for just £1 / $1 / €1
*Read 5 free articles per month without a subscription
Join now for unlimited access
Try first month for just £1 / $1 / €1