Alessandro Petacchi: Rider Profile
Alessandro Petacchi - rider profile, biog, cycling results, photos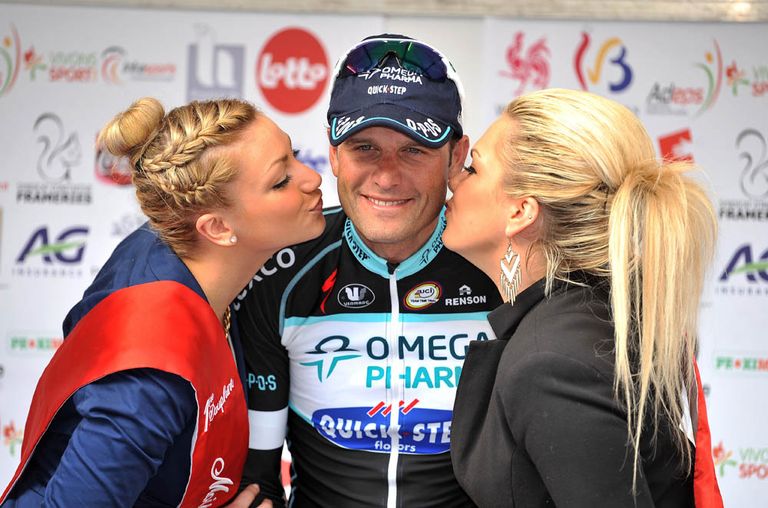 (Image credit: Graham Watson)
Date of birth: 03/01/1974
From: La Spezia, Italy
Team: Southeast
Previous teams: Omega Pharma-QuickStep (2013-2014), Lampre (2010-2013), LPR Brakes (2009); Milram (2006-2008); Fassa Bortolo (2000-2005); Navigare-Gaerne (1999); Scrigno (1996-1998)
Alessandro Petacchi career profile
Alessandro Petacchi is one of the most successful sprinters in the history of the sport, with well over 100 wins to his name.
Turning professional in 1996 with the Scrigno team, the Italian made a name for himself taking a stage of the Tour de Langkawi in 1998.
A winless year at Navigare followed but it was at Fasso Bortolo under the tutelage of the formidable Giancarlo Ferretti that the Italian flourished. Petacchi's first Grand Tour stage wins came in 2000, taking two wins at the Vuelta. 2003 saw the man from La Spezia take stages in all three of the Grand Tours but 2004 was his most prolific; nine stage wins at the Giro and four at the Vuelta was an astonishing performance as Petacchi dominated the sprint finishes of nearly every race he entered.
He finally realised a dream in 2005, winning Milan-San Remo proving that he could climb when it was really necessary, training hard over the winter to shed any excess weight.
Controversy struck in 2007, when the Italian returned a 'non-negative' test for excess levels of salbutamol, an asthma medication at that year's Giro. He had a Therapeutic Use Exemption certificate for the drug, but the level was recorded at 320mg/ml above the 1000mg/ml limit allowed and was suspended immediately by his Milram team. The Italian Olympic Committee ruled that the he had no intention to dope and its use had only been therapeutic, but by this time the damage had been done and he was banned from racing for twelve months, which was later reduced to take into account the period during which he was suspended.
Petacchi struggled to restore his his fearsome turn of speed and spent a year with the ProContinental team, LPR Brakes. Two stage victories in the Giro, followed by three in the Tour of Britain were enough for Lampre to sign him for the 2010 season.
The Italian duly had a fine season, finishing third in Milan-San Remo, winning a stage in the Tour de Suisse before riding a brilliant Tour de France. He won two stages in the first week, and held off a charge from Mark Cavendish to win the green jersey in Paris.
In 2013, Petacchi 'retired' from Lampre only to sign for Omega Pharma-QuickStep to form part of Cavendish's lead out. His contract with Omega Pharma ended after 2014, and Petacchi signed with the Southeast Italian Pro Continental outfit for 2015.
Alessandro Petacchi results
2014
Grand Prix Pino Cerami
Dernycriterium 's-Gravenwezel
2012
Bayern Rundfahrt; stage one
Bayern Rundfahrt; stage three
Bayern Rundfahrt; stage five
Bayern Rundfahrt; points classification
2011
Volta a Catalunya; stage two
Giro d'Italia; stage two
Tour of Turkey; stage four
Tour of Turkey; points classification
2010
Giro della Provincia di Reggio Calabria; stage two
Giro della Provincia di Reggio Calabria; stage four
GP Costa degli Etruschi
Tour de Suisse; stage four
Tour de France; stage one
Tour de France, stage four
Tour de France; points classification

2009
Giro d'Italia; stage two
Giro d'Italia; stage three
Tirenno Adriatico; stage two
Settimana Ciclista Lombarda; stage two
Settimana Ciclista Lombarda; stage four
Settimana Ciclista Lombarda; points classification
Giro di Sardegna; stage five
Scheldeprijs Vlaanderen
Gran Premio della Costa Etruschi
2008
Tour of Britain; stage one
Tour of Britain; stage six
Tour of Britain; stage eight
GP Beghelli
Memorial Viviana Manservisi
2007
Vuelta a Espana; stage 11
Vuelta a Espana; 12
Tour of the Algarve; overall
Tour of the Algarve; stage
Tour of the Algarve; stage
Tour of the Algarve; stage
Vuelta Valenciana; stage
Regio Tour; stage
Internationale Niedersachsen-Rundfahrt; overall
Internationale Niedersachsen-Rundfahrt; stage
Internationale Niedersachsen-Rundfahrt; stage
Internationale Niedersachsen-Rundfahrt; stage
Paris-Tours
2006
Tirreno Adriatico; stage seven
Tirreno Adriatico; points classification
Ruta del Sol; stage
Ruta del Sol; stage
Vuelta Valenciana; stage
Vuelta Valenciana; stage
Internationale Niedersachsen-Rundfahrt; overall
Internationale Niedersachsen-Rundfahrt; stage
Internationale Niedersachsen-Rundfahrt; stage
Internationale Niedersachsen-Rundfahrt; stage
Internationale Niedersachsen-Rundfahrt; stage
Internationale Niedersachsen-Rundfahrt; stage
GP Costa Degli Etruschi
Giro della Provincia di Lucca
2005
Giro d'Italia; stage 10
Giro d'Italia; stage 13
Giro d'Italia; stage 16
Giro d'Italia; stage 21
Vuelta a Espana; stage three
Vuelta a Espana; stage four
Vuelta a Espana; stage eight
Vuelta a Espana; stage 12
Vuelta a Espana; stage 21
Tour de Romandie; stage one
Tour de Romandie; stage two
Tirreno Adriatico; stage one
Tirreno Adriatico; stage six
Tirreno Adriatico; stage seven
Vuelta a Aragon; stage
Vuelta a Aragon; stage
Vuelta a Andalucia; stage
Vuelta a Andalucia; stage
Volta a la Comunitat Valenciana; overall
Volta a la Comunitat Valenciana; stage
Volta a la Comunitat Valenciana; stage
Volta a la Comunitat Valenciana; stage
Milan-San Remo
GP Costa Degli Etruschi
Trofeo Luis Puig
2004
Giro d'Italia; stage two
Giro d'Italia; stage five
Giro d'Italia; stage seven
Giro d'Italia; stage nine
Giro d'Italia; stage 11
Giro d'Italia; stage 13
Giro d'Italia; stage 15
Giro d'Italia; stage 16
Giro d'Italia; stage 21
Giro d'Italia; points classification
Giro d'Italia; most combative rider
Giro d'Italia; Azzurri d'Italia classification
Vuelta a Espana; stage two
Vuelta a Espana; stage four
Vuelta a Espana; stage seven
Vuelta a Espana; stage 13
Tirreno Adriatico; stage one
Tirreno Adriatico; stage two
Tirreno Adriatico; stage seven
Giro della Provincia di Lucca; stage
Giro della Provincia di Lucca; stage
Tour of Aragon; stage
Tour of Aragon; stage
Tour of Holland; stage
2003
Tour de France; stage two
Tour de France; stage four
Tour de France; stage six
Tour de France; stage seven
Giro d'Italia; stage one
Giro d'Italia; stage five
Giro d'Italia; stage six
Giro d'Italia; stage 13
Giro d'Italia; stage 16
Giro d'Italia; stage 17
Vuelta a Espana; stage three
Vuelta a Espana; stage five
Vuelta a Espana; stage 12
Vuelta a Espana; stage 14
Vuelta a Espana; stage 21
Paris-Nice; stage one
Vuelta Valenciana; stage
Tour of Aragon; stage
Tour of Aragon; stage
Tour of Aragon; stage
Tour of Holland; stage
Tour of Holland; stage
Trofeo Luis Puig
2002
Vuelta a Espana; stage 12
Paris-Nice; stage one
Paris-Nice; stage five
Settimana Coppi & Bartali; stage
Settimana Coppi & Bartali; stage
Settimana Coppi & Bartali; stage
Tour of the Mediterranean; stage
Vuelta Valenciana; stage
Vuelta Valenciana; stage
Vuelta Valenciana; stage
Regio Tour; stage
Tour of Holland; stage
2001
Settimana Coppi & Bartali; stage
Settimana Lombarda; stage
Settimana Lombarda; stage
Euskal Bizikleta; stage
Tour of Poland; stage
2000
Vuelta a Espana; stage eight
Vuelta a Espana; stage 12
Giro della Provincia di Lucca; overall
Giro della Provincia di Lucca; stage
Giro della Provincia di Lucca; stage
Tour de Luxembourg; stage
Tour de Luxembourg; stage
Route du Sud; stage
Route du Sud; stage
Regio Tour; stage
1998
Tour de Langkawi; stage