Alex Dowsett to focus on the road for UCI Hour Record attempt
Movistar rider Alex Dowsett believes less track training and more road riding is the key to a faster Hour campaign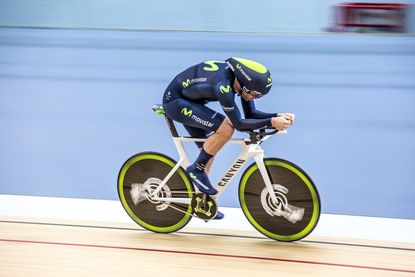 (Image credit: Dan Gould)
Get The Leadout Newsletter
The latest race content, interviews, features, reviews and expert buying guides, direct to your inbox!
Thank you for signing up to The Pick. You will receive a verification email shortly.
There was a problem. Please refresh the page and try again.
In his preparation for his second UCI Hour Record ride, Alex Dowsett (Movistar) has said he will be focusing more on the road than he did for his previous attempt.
The Pedalsure ambassador is confident that he will be able to ride faster than he did when he broke the record on May 2 2015 in Manchester – a ride which he described as "conservative".
As yet, the date for this second Hour Record attempt has not been set in stone but Dowsett and his team are likely to get the green light to do the ride in Manchester. If he breaks the Hour Record this would represent a good omen for 2017 compared with the beginning of 2016 when a fractured collarbone put paid to his fortunes for that year.
>>> Alex Dowsett announces second Hour Record attempt
The 28-year-old has learned a lot from his previous record in which he rode 52.937km and knows there are a number of things that he will change for his next attempt, including riding less conservatively.
Dowsett said: "There's a long list of things that we will do, not necessarily differently but better. There's no one big thing, but I will do less track training than I did for the last one because I did some testing and I was quick straight off the back of a year of doing no track cycling. I'll be doing more strength-based training on the road."
Equipment such as the Endura skinsuit and Canyon bike will be better and faster than what he used in 2015, though the thing that will remain the same is the venue as Dowsett found the track faster than London.
Dowsett explained: "When I was doing my testing it worked out that I was doing 10 watts per lap less in Manchester than I was doing in London. I feel that when you are on the banking, the wattages are a lot lower than when you are on the straight sections, and those differences are bigger in London than they are in Manchester. Manchester is a much more even track, so it is nicer and faster."
Dowsett's original record was ">broken by Sir Bradley Wiggins just a month after he set it. He believes Wiggins did a phenomenal ride in London and knows that breaking his record will be a tough challenge. However, he also knows that air pressure will play a part.
Watch: Alex Dowsett's 2015 Hour Record bike
Dowsett added: "The record that Bradley set was really good, especially considering he had terrible air pressure. I am quite happy he had the air pressure he had otherwise it would make my life even more difficult to attempt to beat him!"
Given that he will be out on the road as the weather becomes more wintry, Dowsett spoke of his thoughts on cycle insurance, and believes that cyclists should be covered when riding on the road.
>>> Tweets of the week: Mark Cavendish, Alex Dowsett, Tom Dumoulin and more
He explained: "We are out there sharing the road with cars, and it can be a dangerous place. The roads are so slippery in these winter months, but it's not like we are going to stop going out on the road, so it's about having that safety net."
Although he recognises that this may be a bugbear for some cyclists and possibly put off new riders, Dowsett thinks there is likely to be a step change in attitudes in which taking out insurance becomes the norm, in the same way as with wearing cycle helmets.
Thank you for reading 20 articles this month* Join now for unlimited access
Enjoy your first month for just £1 / $1 / €1
*Read 5 free articles per month without a subscription
Join now for unlimited access
Try first month for just £1 / $1 / €1
Get The Leadout Newsletter
The latest race content, interviews, features, reviews and expert buying guides, direct to your inbox!