Amanda Coker breaks women's highest annual cycling mileage record - in 130 days
American cyclist Amanda Coker surpasses Billie Fleming's 1938 record of 29,603.7 miles ridden in a year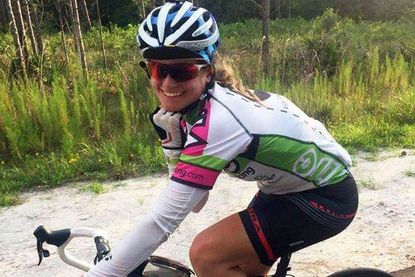 (Image credit: Amanda Coker/Facebook)
Billie Fleming's 1938 world record for the highest number of miles cycled in a year was broken on Wednesday, as American cyclist Amanda Coker surpassed Fleming's mark.
Coker started her attempt on May 15 2016 and after 130 days of riding set an unconfirmed record of 29,774 miles - bettering Fleming's long-standing record of 29,603.7 miles.
The 24-year-old has been clocking up a consistent average of 230 miles per day riding laps of a flat loop in Flatwoods, near Tampa, Florida. It's the same park used by Kurt Searvogel when he set a new outright annual mileage record in January 2016.
>>> Billie Fleming passes away age 100
Coker has managed to fit in around 12 hours of riding per day by setting a fast average moving speed of just under 20mph. In contrast, when British rider Fleming set her record in 1938 she rode just over 81 miles per day.
Now a world record holder, Coker very nearly had her cycling career cut short in 2011. She was hit from behind by a car while out cycling with her dad, and suffered brain injury, spinal injuries and a broken leg. After two years of rehabilitation, Coker slowly got back into cycling and is now a long-distance specialist.
She has been uploading her daily rides to her Strava account and posting a daily log on Facebook.
Coker's record is being ratified by the Ultra Marathon Cycling Association (UMCA). Under UMCA rules, anyone attempting to set a Highest Annual Mileage Record can be drafted by other riders and use a recumbent bicycle if they wish.
Thank you for reading 5 articles this month* Join now for unlimited access
Enjoy your first month for just £1 / $1 / €1
*Read 5 free articles per month without a subscription
Join now for unlimited access
Try first month for just £1 / $1 / €1