American Kurt Searvogel breaks cycling highest annual mileage record
Kurt Searvogel has broken the highest annual mileage record held by British rider Tommy Godwin since 1939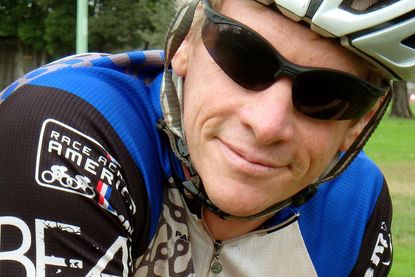 (Image credit: Kurt Searvogel/Twitter)
British rider Tommy Godwin's 1939 record for the most number of miles ridden on a bicycle in a single year has been broken by American Kurt Searvogel.
Searvogel rode through Godwin's long-standing record of 75,065 miles (120,805 kilometres) on Monday (January 4) to reach 75,270 miles (121,135 kilometres), having started his attempt on January 10 2015.
>>> Comment: Why Kurt Searvogel's annual cycling record deserves our respect
The 53-year-old from Sheridan, Arkansas, who is also known by his nickname of 'Tarzan', broke the record in Flatwoods Park, Tampa, Florida, with five days to spare and averaged just over 209 miles ridden per day and 12 hours per ride.
If Searvogel continues to ride at the same pace for the next five days, he could set a new mark of 76,315 miles.
https://www.youtube.com/watch?v=U7E6Bm843lM
Not only has Searvogel broken Godwin's 77-year-old mark, but he has also beaten British hope Steve Abraham to the record. Abraham commenced his attempt on January 1 2015, but suffered a setback when he was hit by a moped in March, breaking his ankle.
Although Abraham continued to ride, the 42-year-old only reached full fitness again in August, and decided to restart his record attempt from August 8 - and therefore still has 215 days left to beat Searvogel's new record.
>>> Long-distance cyclist Steve Abraham stopped by police for riding on A47
A new challenger has also joined in: New Zealander Bruce Berkeley commenced his attempt from January 1. Berkeley, who is based in London, currently holds the record for most miles ridden on a bicycle in a week and a month.
You can follow Searvogel, Abraham and Berkeley's progress via Strava.
Update on January 11: Searvogel posted a year-end total of 76,076 miles (122,432km), and therefore that is the new Highest Annual Mileage Record
Thank you for reading 5 articles this month* Join now for unlimited access
Enjoy your first month for just £1 / $1 / €1
*Read 5 free articles per month without a subscription
Join now for unlimited access
Try first month for just £1 / $1 / €1