American cyclists hit back over plans to make hi-vis clothing compulsory
Iowa senate also coming close to banning speed cameras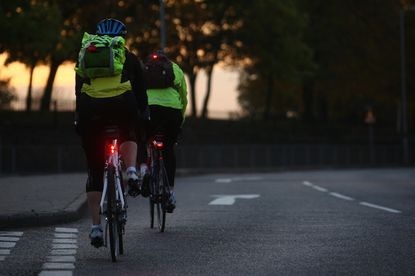 (Image credit: Cycling Weekly/IPC)
Cyclists in the US state of Iowa have reacted with anger after a bill that was originally designed to improve safety by making drivers change lanes to overtake cyclists has been altered with an amendment that would make it compulsory for cyclists to wear hi-vis clothing.
The HF 2341 bill was introduced to the state legislature earlier in February as a way of improving cyclists' safety by forcing drivers to move onto the other side of the road when overtaking.
>>> What is the evidence that wearing hi-vis clothing makes you a safer cyclist?
However a new amendment to the bill says that cyclists must also wear high-vis clothing on roads with a speed limit of 45mph or above, with this also applying to organised events such as road races where there are fewer that 500 competitors.
This amendment has caused anger among local riders and cycling campaigners who had initially welcomed the bill as a way of improving safety on the roads.
Watch: What lights do I need for winter?
http://www.youtube.com/watch?v=oZOr-A34xGc
"If a person doesn't have sufficient high vis clothing they could be found at fault even though they did nothing wrong other than not have the right clothes on. We don't like that," was the assessment of Quad Cities Bicycle Club president James Hudson, a view shared by many of his club's members.
"Both me and my wife have been hit by cars, even when wearing hi-vis," cyclist Dean Matthias told Our Quad Cities. "It doesn't mean a single thing if the person in the car is not looking."
>>> Transport minister hits back at reports of 'plan' for compulsory helmets and hi-vis for cyclists
The news of the attempt to crack down on cyclists wearing the wrong coloured clothing comes at the same time as the Iowa state senate passed a bill banning traffic cameras.
The bill, which now requires the approval of the Iowa House of Representatives, would see the dismantling of all traffic cameras that are used to catch drivers speeding or jumping red lights.
Thank you for reading 20 articles this month* Join now for unlimited access
Enjoy your first month for just £1 / $1 / €1
*Read 5 free articles per month without a subscription
Join now for unlimited access
Try first month for just £1 / $1 / €1