ANC-HALFORDS: The Manager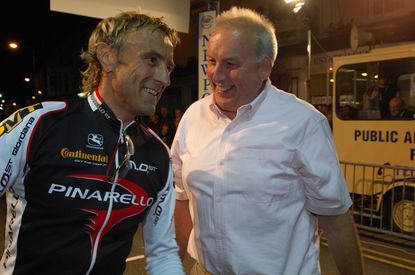 Get The Leadout Newsletter
The latest race content, interviews, features, reviews and expert buying guides, direct to your inbox!
Thank you for signing up to The Pick. You will receive a verification email shortly.
There was a problem. Please refresh the page and try again.
Swipe to scroll horizontally
THE MANAGER: PHIL GRIFFITHS
?It always really upsets me when people put ANC-Halfords in the same bracket as all the other British professional teams that have gone under over the years."
"It wasn?t like that at all,? says Phil Griffiths, a former professional who was brought in to manage the team in 1985.
?Tony Capper was always a gambler. The guy spent the ANC budget by the Milk Race every year. That was his strategy. Spend it, win the Milk Race and then go back to the board to get enough to cover the rest of the season.
?I have my grievances with Tony but not because of his ambition. He did the right thing. We had a chance to go to the Tour and he went for it. I am very proud of what we did. It?s a fantastic story. People remember the demise but not the work it took to build up. You don?t just ring up the Tour and ask for a place, not even in 1987.
?Capper was ambitious and he had vision. People may think of him as a failure but he was a very successful person in everything he did. His problem was he got carried away by other people?s ambition. If a rider came to him and said ?My dream is to ride Paris-Roubaix one day? he?d go ?Great, sign him up.? He identified with that ambition but wouldn?t care the guy was 33 or whatever.?
The plan to go to the Tour was clear to Griffiths, even if the riders didn?t know. ?I always knew we were aiming for the Tour in 1987. Perhaps I forgot to tell the riders but we didn?t go to the Ruta del Sol, the Tour of the Mediterranean and all these races for nothing. We even put Nigel Bloor, who rode for the third of our teams at home, Interent, into Bordeaux-Paris to please the French.?
When the invitation came through, with a form to fill in and a request for the £37,000 entry fee, suddenly the Tour became very real. ?This form turned up in the office and I said to Capper ?Have we got £37,000?? He said we did so I said ?Well, we?d better get this form signed then.??
Capper?s ambition knew no bounds. Before the Tour he was meeting potential sponsors and at one point he and Griffiths met Phil Anderson at Holiday Inn in Ghent. ?Once he?d seen the Tour Capper was thinking ?Right, to win this thing I need Roche, Kelly, Anderson.? Then he?d work out how to get sponsors to pay for it.
?It annoys me when people say the riders we had were out of their depths. We didn?t have a great number of riders to choose from but the good ones were good. We rode on water, steaks and spaghetti and I don?t care how that comes across but that?s how we rode. We were innocent. We didn?t do bad.
?Elliott was class, Timmis got through it, Watson had loads of talent but didn?t use it. Elliott said in his book that he had an angel on one shoulder and a devil on the other. Watson had a devil on both shoulders.
?Look at the Tour, hundreds of people ride it once and never again. To get four guys to Paris ? and it should have been five had Stephen Swart not had a foot injury ? was a very good ratio in our first Tour.
?Palov, the Czech defector was absolutely terrified, and I mean that. He?d told us this awful story of how he?d defected from the East and here we were in Berlin, before the Wall came down. He was convinced someone was going to haul him back.?
Swipe to scroll horizontally
"The riders just wanted to suffer in silence"
Capper?s mistake was inviting his wife and two teenage sons to fill the rooms left vacant by the riders as they pulled out. ?They shouldn?t have been there,? says Griffiths. ?His wife smoked and his sons were all over the place, asking questions. The riders just wanted to suffer in silence with others who were going through the same thing. Some things were said to the sons and that upset Capper. I think maybe he was hurt by how we all reacted to his family turning up but he should have had more respect for the riders. Perhaps he thought ?It?s my team, my money, I got you hear, I?ll invite my family if I want to?.?
Then, one day, Capper left without saying goodbye. The team was left with no money to pay for expenses, extra food or drinks at hotels, petrol. ?I sold some Campag disc wheels so we had a bit of cash. Capper had taken a box of these headpiece radios from Jan Raas of Superconfex and when Raas came for his money I had to give him four carbon-fibre Vitus frames.?
Once Capper had gone there was no one to go to the ANC board to ask for money to continue the team. Halfords paid the riders a fee to ride the Nissan Classic in October but for the rest came contractual wrangles. Because Capper had sold ANC at the end of 1986, and formed his own sports management company, Action Sports, some riders were contracted to ANC, others to Capper. This meant some eventually got their money, by going to ANC, while those with Action Sports didn?t.
?He should have seen it through and I was annoyed that he didn?t ensure everyone was paid because he could have done,? says Griffiths.
?I remember the drive back from Paris to Calais the Monday after the Tour. No one spoke. It was silence all the way. It was like they were thinking ?What on earth was that!??
PICTURE: Today Elliott races for a team sponsored by Phil Griffiths (right)
Swipe to scroll horizontally
Paul Watson ? Burnt Out Before Berlin
Thank you for reading 20 articles this month* Join now for unlimited access
Enjoy your first month for just £1 / $1 / €1
*Read 5 free articles per month without a subscription
Join now for unlimited access
Try first month for just £1 / $1 / €1
Get The Leadout Newsletter
The latest race content, interviews, features, reviews and expert buying guides, direct to your inbox!
Sports journalist Lionel Birnie has written professionally for Sunday Times, Procycling and of course Cycling Weekly. He is also an author, publisher, and co-founder of The Cycling Podcast. His first experience covering the Tour de France came in 1999, and he has presented The Cycling Podcast with Richard Moore and Daniel Friebe since 2013. He founded Peloton Publishing in 2010 and has ghostwritten and published the autobiography of Sean Kelly, as well as a number of other sports icons.