Armitstead focused on combining track and road goals in 2010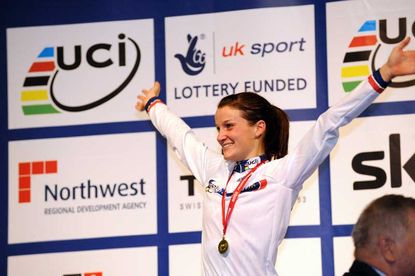 ARMITSTEAD FOCUSED ON COMBINING TRACK AND ROAD GOALS IN 2010
Young prodigy Lizzie Armitstead has signed a two-year contract with Cervélo, moving her into the most successful women's road team, but insists that she can strike an equal balance between her track and road objectives.
"I think it's possible to do both and both are as equally important [for me]," Armitstead explained to Cycling Weekly at the team's training camp in Portugal.
2009 was Armitstead's most successful season to date, becoming a world champion on the track and making considerable progress on the road, winning a stage at the Tour de l'Ardèche.
"The women's road season doesn't really start in full flow until after March anyway, so I'll concentrate completely on the track until the World Championships in March.
"A lot of my training for the track is on the road anyway so after March I'll switch to the road season and focus on the Nationals and the Worlds as well as the Commonwealth Games," she added.
Armitstead is focused on maintaining a dual programme this year


GB 'CROSS WORLDS TEAM ANNOUNCED
Great Britain will send an 11-rider strong team to the World Cyclo-Cross Championships in the Czech Republic from January 30-31.
National champion Jody Crawforth will be joined in the elite men's category by National Trophy winner Paul Oldham and Beglium-based rider, Ian Field.
In the women's event, national champion Helen Wyman will be joined by a trio of young talent in the shape of Nikki Harris, Gabby Day and Annie Last.
Tom Moses, the national junior champion, will represent GB in the junior men's race joined by Dan McLay, Luke Grivell-Mellor and Luke Gray.
THREE'S THE MAGIC NUMBER FOR TOUR OF BRITAIN RIDERS
Sportivistes will have the opportunity to ride three full stages of this year's Tour of Britain in the second year of partnership between the race and the Prostate Cancer Charity.
In an all-new event for 2010, cyclists can tackle a demanding yet scenic 150km route from Minehead to the South Devon coast, revealing once again the race's patronage of the South West.
As with last year, there will be an event based on the finishing circuit in London as well as a gruelling 145km route around Stoke-on-Trent, which last year saw 1,300 riders taking part.
"Last year's events proved hugely successful and we received extremely positive feedback from participants about the organisation of the day and the fact that they could take on a leg of the actual Tour of Britain for the first time," explained John Neate, Chief Executive of the Prostate Cancer Charity.
"Of course, everyone who takes part, as well as completing a personal challenge, will be helping the Charity to raise awareness of prostate cancer and helping us to raise funds to fight the disease, which kills one man every hour in the UK," Neate added.
Early entry is advised via www.tourride.co.uk
DRAGON RIDE ENTRY RUSH CONTINUES
In the light of unprecedented demand for entries, the Dragon Ride made 300 extra berths available at 9am on Monday. However, this only seemed to increase the rush for a spot on this popular sportive.
"Three hundred places went in seven minutes," said organiser Lou Lusardi. "It's unbelievable; it screwed up the system."
Subsequently, there are no more places on the Medio (130km) or Gran Fondo (190km) routes. Only a few Corto (40km) and hospitality spots remain - and at this rate, they won't be around for much longer.
See www.dragonride.co.uk for more details or to sign up.
BH TEAMS UP WITH RALEIGH IN THE UK

Basque bicycle brand BH has teamed up with Raleigh in an unusual move that will see the British manufacturer become the UK distributor for BH.
Founded in 1909 in the small Basque town of Eibar, the brands combined have over 200 years of experience in the industry.
"I am really pleased to have developed the relationship with Raleigh and I am confident with Raleigh's support and strengths in the UK we can together grow the BH brand and bring it to the attention of the core of UK cycling enthusiasts," commeneted José Miguel Aracama of BH.
Raleigh will initially stock a range of some 52 BH models from February.
HORIZON FITNESS UNVEILS NEW TEAM KIT
The Horizon Fitness of team of Sarah Storey and managed by Stefan Wyman has unveiled its kit design for 2010.
'The team kit looks great and the quality is superb," commented Wyman.
"From experience, I know that when you are getting your riders their kit, it's so important they are proud to be wearing it. I think most people will agree that this kit looks great."
New kit will be a stylish addition to the peloton


ENTRIES OPEN FOR PENDRAGON EVENTS
Entries are now open for Pendragon Sports' sportive events in 2010.
The Tour of Wessex will be at the top of the list for those looking for a sadistic sportive experience.
Over 2,300 riders took part last year in what is the only multi-stage sportive event in the country, encompassing a gruelling 520km in just three days.
Also on offer is a ten-day sportive from London to Monaco, taking in some of the Tour de France's most fabled climbs with full professional back-up.
For more details see pendragon-cc.com for more information.
PETITION CALLING FOR SAFER CYCLING IN THE UK
A petition signed by 9,000 women was delivered yesterday to Transport Minister Sadiq Khan at the House of Commons.
The 'Motion for Women' petition was collated by Sustrans from women across the UK urging for the need for safer cycling conditions.
The petition began in September 2009 in response to the startling statistic that 79% of British women don't cycle at all.
"Women have told us that they don't cycle because they don't feel safe enough," said Melissa Henry of Sustrans.
"It's great to have all these signatures backing our call for safer cycling, but this is just the start. Governments now have to take all these voices seriously and make changes across the country that will mean more people can choose to make everyday journeys by bike, without feeling unsafe."
Thank you for reading 20 articles this month* Join now for unlimited access
Enjoy your first month for just £1 / $1 / €1
*Read 5 free articles per month without a subscription
Join now for unlimited access
Try first month for just £1 / $1 / €1