Armstrong to face media questions over 'Astana syringes'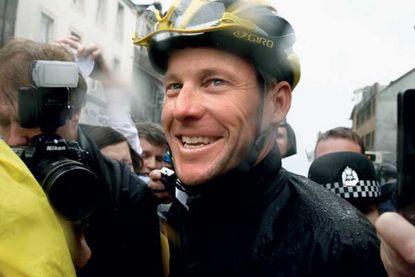 Lance Armstrong is set to be greeted by a wave of questions about a possible 'affaire Astana' when he arrives in Paris for the Tour de France route presentation on Wednesday morning, following reports that French police are investigating what have been described as 'suspicious syringes' used by the Astana team from the 2009 Tour de France.
According to a report on the website of French newspaper L'Equipe (www.equipe.fr), investigators in Paris have began preliminary investigations after the discovery of several suspicious syringes in the containers the Tour de France organisers given to teams for the safe disposal of syringes.
The Astana team dominated the Tour de France with Spain's Alberto Contador winning overall and Lance Armstrong finishing third on the final podium in Paris.
The investigation is being carried out by the OCLAESP (Office central de lutte contre les atteintes à l'environnement et à la santé publique) - the central office for the fight against effects on the environment and public health.
According to a source close to the investigation contacted by the Le Monde newspaper (www.lemonde.fr), the investigation is being held in the same context as the complaints by the AFLD about doping procedures at the Tour de France and follows the seizure of 'hundreds of syringes' and 'blood perfusion material' by the OCLAESP.
According to L'Equipe, the syringes used during the Tour de France are to be tested by the Paris Toxlab laboratory to discover what substances they contain and if they were registered for use during the Tour de France.
The report in L'Equipe does not say when the results of the analysis will be known, although Le Monde indicates the end of October as a possible date.
Related links
Live! Tour de France 2010 presentation
Thank you for reading 20 articles this month* Join now for unlimited access
Enjoy your first month for just £1 / $1 / €1
*Read 5 free articles per month without a subscription
Join now for unlimited access
Try first month for just £1 / $1 / €1