Armstrong's bike stolen in California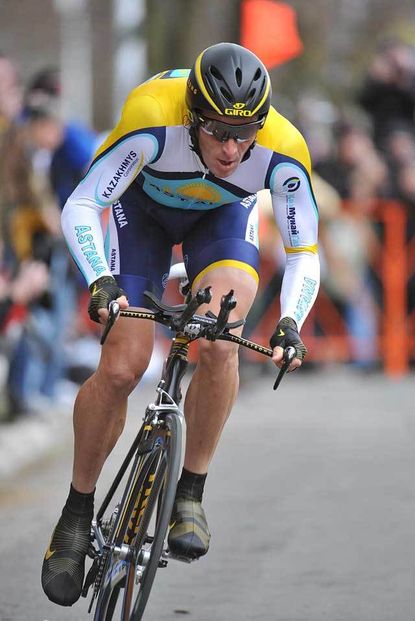 As any one of the 106,993 people following Lance Armstrong on Twitter will know, he had his time trial bike stolen last night.
His black and yellow Livestrong Trek was stolen from Astana's truck. Armstrong himself broke the news on the Twitter feed (where else) saying; "Whoa!! They just came to my room and said our truck was broken into and someone stole my time trial bike! Wtf?!? APB out to the twitterati."
Perhaps following the lead of the Italian bicycle thieves who made off with Barloworld's bikes recently, some opportunistic American thieves decided to swing in to action in Sacramento the night after the race's prologue.
They do face one small problem though, it's the only bike of its kind, which makes it hard to sell on, so if you do see it for sale on the CTT forum, Twitter Lance for your reward.
Picture of the stolen bike
2009 TOUR OF CALIFORNIA: LINKS
STAGE REPORTS
Prologue: Cancellara Express derails the Armstrong show
NEWS & FEATURES
Tour of California blog
Armstrong and Astana train for Tour of California
Mark Cavendish: Rider Profile
Lance Armstrong: Rider Profile
PHOTOS
Cycling Weekly photo gallery
2009 TOUR OF CALIFORNIA PREVIEW
2009 Tour of California race preview
Start list: all the riders
Team list: all the squads
2009 TOUR OF CALIFORNIA STAGES
Saturday, February 14 Prologue details
Sunday, February 15 Stage one details
Monday, February 16 Stage two details
Tuesday, February 17 Stage three details
Wednesday, February 18 Stage four details
Thursday February 19 Stage five details
Friday, February 20 Stage six details
Saturday, February 21 Stage seven details
Sunday, February 22 Stage eight details
EXTERNAL LINKS
Thank you for reading 20 articles this month* Join now for unlimited access
Enjoy your first month for just £1 / $1 / €1
*Read 5 free articles per month without a subscription
Join now for unlimited access
Try first month for just £1 / $1 / €1