ASA overturns ruling on 'no helmet' Cycling Scotland advert
Advertising Standards Agency now says that 'See Cyclist, Think Horse' advert was not socially irresponsible for showing a cyclist without a helmet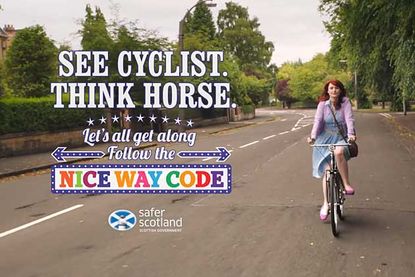 Get The Leadout Newsletter
The latest race content, interviews, features, reviews and expert buying guides, direct to your inbox!
Thank you for signing up to The Pick. You will receive a verification email shortly.
There was a problem. Please refresh the page and try again.
The Advertising Standards Agency (ASA) has overturned its ruling on a Cycling Scotland advert, which was banned because the cyclist wasn't wearing a helmet.
After five complaints, the advert, which showed people cycling without helmets or 'other safety attire' and away from the kerb, was found to breach the Broadcast Code of Advertising in January, though both are legal, sparking a Twitter storm and widespread outrage among safety campaigners.
CTC is calling the reversal of the ruling a victory against suggestions that cyclists who don't wear a helmet are irresponsible.
CTC's Policy Coordinator, Chris Peck, said: "It's great news that the ASA have listened to cycling groups and the many cyclists out there who expressed their concern about the original finding. Helmets aren't compulsory in the UK, and we will fight to prevent them becoming so, including any creeping coercion that suggests that unhelmeted cyclists are somehow 'irresponsible'."
The advert, with the strap line 'See Cyclist, Think Horse', was aimed at those driving to encourage them to give those on bikes space on the roads. It showed one woman cycling in a dress in primary position without a helmet, while others in the advert wore helmets. At the time it was branded 'socially irresponsible' by the ASA, who ruled all future adverts should feature cyclists wearing helmets and 'placed in the most suitable riding position'.
Cycling Scotland, the national cycle promotion organisation for Scotland, then submitted a request for an independent review on 'all elements of the adjudication, including both road positioning and helmets', highlighting evidence of the high benefit: disbenefit ratio of cycling versus the potential for injury. It argued clothes worn in the advert sought to reflect the accessibility of cycling.
Cycling Scotland's chief executive, Ian Aitken, said: "The advert shows drivers the correct amount of space to give when overtaking someone who is cycling. People cycle for a variety of reasons, and, as such, drivers will encounter people cycling in a range of clothing styles, some with and some without a helmet. So, regardless the reason why someone is cycling, or what they are wearing while doing so, drivers need to slow down and give as much space as they would a car when overtaking a person on a bike."
"We are pleased that the final adjudication has confirmed the advert gives the correct guidance to people driving and cycling."
He added the adjudication opened up a constructive debate on how much space to give people cycling on the roads, as well as highlighting the suitable road positions. He thanked the 'huge groundswell of support' from bodies including British Cycling, CTC and both Scottish and English parliamentary cycling groups.
The ASA, in its statement, concluded that "because it was not a UK legal requirement for cyclists to wear helmets and because the ad depicted a range of real life situations in which motorists may encounter cyclists on the road for the purposes of educating them about the risks to cyclists posed by poor driving behaviours we concluded that the ad was not socially irresponsible and likely to condone or encourage behaviour prejudicial to health and safety."
Advertising Standards Authority bans road safety campaign advert by Cycling Scotland due to helmetless rider, branding it 'irresponsible'
Thank you for reading 20 articles this month* Join now for unlimited access
Enjoy your first month for just £1 / $1 / €1
*Read 5 free articles per month without a subscription
Join now for unlimited access
Try first month for just £1 / $1 / €1
Get The Leadout Newsletter
The latest race content, interviews, features, reviews and expert buying guides, direct to your inbox!